FROM CNN's Jack Cafferty:
First Lady Michelle Obama has said her primary role in the White House will be 'Mom-in-Chief' to her young daughters, Sasha and Malia. But lately Mrs. Obama has been expressing an interest in taking on more.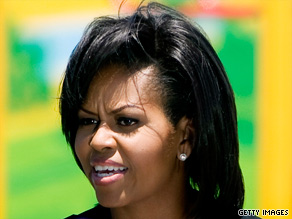 The Washington Post reports Mrs. Obama has been telling her staff and close friends for weeks that she isn't having the impact she wants. Earlier this month, she hired a new chief of staff and got rid of the old one. She's brought on a full-time speech writer, and told her staff she wants to have a "message" at speaking events. In other words, she doesn't just want to shake hands and kiss babies.
Her new chief of staff told the Washington Post, "It isn't just about hugging. Whatever she talks about will bring press and interest, but it's important that she's not just talking [but] actually moving forward on those issues."
Those issues will likely go beyond aiding military families, a cause she has taken on since the campaign trail. In recent weeks, she's been talking up the president's health plan as well. Michelle Obama has commanded more attention accidentally than previous first ladies did on purpose.
Her ability to communicate seems effortless and she comes across as down to earth and genuine. All qualities in short supply in our nation's capital.
Here's my question to you: What's the right role for Michelle Obama?
Tune in to the Situation Room at 5pm to see if Jack reads your answer on air.
And, we love to know where you're writing from, so please include your city and state with your comment.