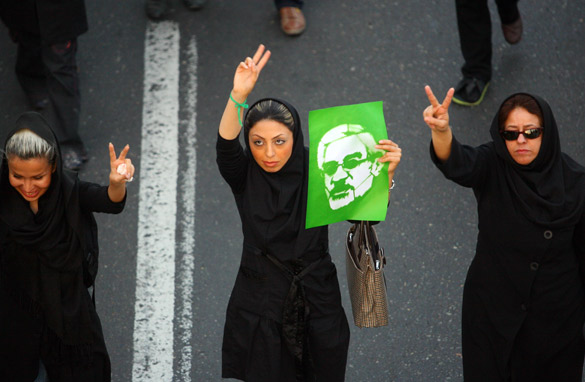 Supporters of defeated reformist presidential candidate Mir Hossein Mousavi demonstrate in Tehran. (PHOTO CREDIT: GETTY IMAGES)
FROM CNN's Jack Cafferty:
Ordinary women have been playing an extraordinary role in the events following Iran's disputed election.
The most powerful example - the 26-year-old woman named Neda, who seemed to be only observing a demonstration when she was gunned down in the streets of Tehran with a single bullet to the chest. A crudely shot video of her final moments has been all over the web... instantly making her a martyr.
Neda is a symbol for all women who have become involved in this movement - an image of both the brutality of the regime and the significant role women are playing in fighting it. And there are many more like Neda.
As the protests and clashes with military forces continue, we continue to see images of women on the streets; they wear their scarves and traditional clothing. Some chant, some march, some collect rocks for ammunition against security forces. Riot police have even been seen clubbing women dressed in black robes. Real macho stuff - beating women with clubs.
One 19-year-old woman tells CNN that she's not scared of the security forces - no matter how many times she gets beaten: "When they want to hit me, I say hit. I have been hit so many times and this time it doesn't matter. I just want to help my brothers and sisters." She says women have been out in the streets in larger numbers than men.
One analyst says in the 1979 revolution, the iconic images were those of "bearded men." This time it's young women who are "the vanguards of Iran."
Here's my question to you: When it comes to Iran, can women ultimately make the difference?
Interested to know which ones made it on air?
Lindsay writes:
Yes, women absolutely can! I've heard that there are more women out protesting in the streets than men. It makes me happy as a woman to hear that they're taking a stand for what they believe in regardless of the misogynistic rules of the country they have been cursed to live in.
Jennifer from Winnipeg writes:
I wish they could make a difference. But the way women are seen and treated by the men in that part of the world, it doesn't look too promising. Neda was shot down and died in the street. Has anyone been charged with her murder? I doubt it, because she was very probably shot by their so-called law enforcement. Women have no rights or worth there and probably never will, I'm very sorry to say.
Sylvia from California writes:
My best friend, who is originally from Iran and has family there, says YES. She also tells me that she is hearing from friends and family back in Iran that the government of Iran has brought in Hamas and Hezbollah thugs to beat up the demonstrators because Persian men will not hit women.
Cindie from Key West, Florida writes:
Ultimately, yes! As history will record, they are making a difference: by being there, by protesting there, by defying the authorities, writing, texting, calling out their plight to the world. By being beaten there, by dying there, the women are getting their messages out, one way or the other. God bless them all.
Sharon from Chicago writes:
Absolutely! Ultimately, women have all the power, especially when physical strength differences are not at issue. Too often, we just do not understand exactly how much power we wield.
Elly from Texas writes:
Yes, Jack, they already have. It was what we call in Iran "Shir Zan" translating to lioness. I am so proud of my fellow Iranian women. Once the government killed children, the women will never sleep until there is justice. Thanks for your coverage, CNN. Without you, I wouldn't know what is going on in Iran.