FROM CNN's Jack Cafferty:
The United States is about to get a whole lot grayer... Consider this: people 65 and older now make up 13-percent of the population in this country. But as baby boomers keep aging, seniors will make up 20-percent of U.S. residents by 2030; and more than a quarter of the population by 2050.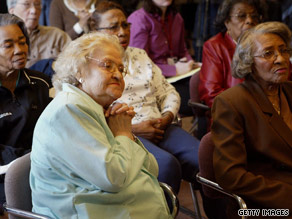 New census data shows that the world's senior population will triple by mid-century to one-in-six people. Thanks to a decline in births and medical advances that help people live longer, seniors are now the fastest-growing age group. And the U.S. - along with many other countries - will find themselves struggling to support them.
As a result, one expert says the 2020s will be "an era of fiscal crisis" for most developed countries.
As for emerging countries like China - they may have it even worse - with millions of elderly Chinese potentially falling into poverty, creating social and political unrest. Of course, This could have a serious impact on the global economy as well.
As for the U.S., immigration of younger people has helped slow the aging of the population overall. Nevertheless, Medicare is expected to go broke by 2017. Social Security is also on its way to going broke. We have known both of these facts for years and the politicians consistently fail to muster the courage to do anything about it.
Here's my question to you: What will a rapidly growing elderly population mean for the U.S.?
Interested to know which ones made it on air?
Ron from Oklahoma writes:
It will mean increased competition in the job market – pitting young against old as the boomers continue to put off retirement. Age discrimination will increase despite laws against it. With manufacturing jobs disappearing by the hour, we will maintain a steady course toward third-world status. All we can hope for is a miracle to slow that decline.
Jimmy writes:
Good time to consider a career in health care or nursing homes. Recession-proof jobs for sure.
Bernadette writes:
Dear Jack, This one is simple. Since seniors are very proactive and turn out in droves to vote, we need not worry about Medicare and other social programs, because they will protect at all costs what they feel they are entitled to and more. They will support Pres. Obama in everything he is trying to do for those seniors and everyone in between.
Faatima writes:
Free love. I think it means it's time to have some more babies.
Felicia writes:
It will mean an increasing appreciation for the minority populations in America that have the highest birth rates now. These groups will generate the workers to support our aging population.
Jasmine from Teaneck, New Jersey writes:
An aging population means an evolved way of life. People will work longer and more flexible hours, jobs will be split into two or three, which will provide supplemental income for the elderly, and Medicare and Social Security will cease to exist. Quite simply, we will adapt.
Jean from Arkansas writes:
It means we need to learn to speak Spanish now before we get dementia.
Jason writes:
More rude, white-haired people with an overblown sense of entitlement, cutting in at public lines.