FROM CNN's Jack Cafferty:
South Carolina Governor Mark Sanford admits he's been having an affair with a woman from Argentina - which is where he's been for the past week. This comes after days of speculation on the whereabouts of the Republican governor, ever since he went AWOL last Thursday.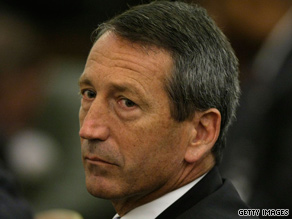 South Carolina Gov. Mark Sanford - and father of 4 - has admitted to cheating on his wife.
Sanford's staff said Monday that he was hiking along the Appalachian Trail, where Sunday was nude hikers day. That's where he told his staff he might be going. I wonder if he knew it was nude hikers day. Probably not.
As late as yesterday, Sanford's wife told CNN she still hadn't heard from her husband. Sanford has four sons - and was away from his family over Father's Day weekend... Charming man.
Sanford announced he's resigning as head of the Republican Governors Association. He was also once thought to be a contender for the 2012 presidential nomination. Governor Sanford is not what the Republican Party needs at this moment - or ever.
It's one thing to have an affair; but when you're the chief executive officer of the state, you can' t just disappear without telling anyone where you're going - let alone leave the country for almost a week.
Here's my question to you: Should South Carolina Gov. Mark Sanford be removed from office?
Interested to know which ones made it on air?
David from Texas writes:
Yes, not for his affair, but for allowing the people of South Carolina not to have a chief executive to turn to. What if there had been a natural disaster, a riot in the streets, explosion at a factory? He would be removed at major company as CEO by the Board of Directors and he should now be removed by the South Carolina legislature.
Sylvia from Tampa writes:
Yes, as should have David Vitter, John Ensign and Larry Craig. They all say they're sorry and that's supposed to be the end of it. The Senate Republicans applauded John Ensign yesterday. What's wrong with this picture? Since there appears to be no consequences for this deplorable behavior, it continues. It's disgusting!
Shirley from Alabama writes:
Yes, Gov. Mark Sanford is a dirty, dirty man. He should have been booted out long ago, not just because he cheated on his wife, but mainly because he is cheating the people of South Carolina. Where did they find him, and why do the southern states that are poorer then dirt keep electing these Republicans that keep them poor? He is pathetic.
Eis writes:
Here is yet another hypocrite who casts stones at others while running to South America to have an affair. I am not surprised. He was in Congress during the Clinton impeachment over an affair. At least he wasn't caught in the bathroom at the Ezezia Airport in Argentina.
Sharon writes:
He essentially abandoned the state that elected him governor to diddle some woman in Argentina, leaving no one – not his staff, not his wife, NO ONE – knowing how to reach him. He should scrape the bottom of the barrel and see if he can find a shred of integrity and resign.
Brian from Connecticut writes:
Jack, Leave him where he is, in the spotlight, as the latest of those supposedly religious, supposedly moral, supposedly family-value-oriented wealthy men, who don't give a damn about the people he supposedly represents.