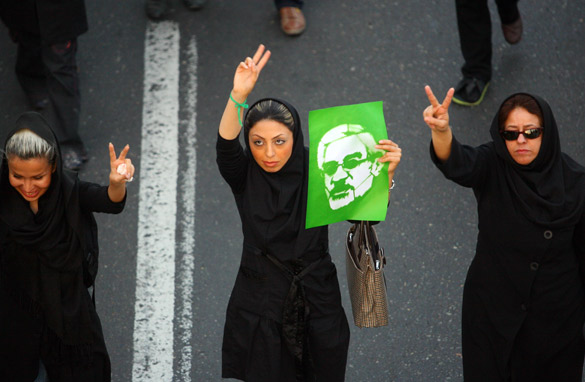 Supporters of defeated reformist presidential candidate Mir Hossein Mousavi demonstrate in Tehran. (PHOTO CREDIT: GETTY IMAGES)
FROM CNN's Jack Cafferty:
Ordinary women have been playing an extraordinary role in the events following Iran's disputed election.
The most powerful example - the 26-year-old woman named Neda, who seemed to be only observing a demonstration when she was gunned down in the streets of Tehran with a single bullet to the chest. A crudely shot video of her final moments has been all over the web... instantly making her a martyr.
Neda is a symbol for all women who have become involved in this movement - an image of both the brutality of the regime and the significant role women are playing in fighting it. And there are many more like Neda.
As the protests and clashes with military forces continue, we continue to see images of women on the streets; they wear their scarves and traditional clothing. Some chant, some march, some collect rocks for ammunition against security forces. Riot police have even been seen clubbing women dressed in black robes. Real macho stuff - beating women with clubs.
One 19-year-old woman tells CNN that she's not scared of the security forces - no matter how many times she gets beaten: "When they want to hit me, I say hit. I have been hit so many times and this time it doesn't matter. I just want to help my brothers and sisters." She says women have been out in the streets in larger numbers than men.
One analyst says in the 1979 revolution, the iconic images were those of "bearded men." This time it's young women who are "the vanguards of Iran."
Here's my question to you: When it comes to Iran, can women ultimately make the difference?
Interested to know which ones made it on air?