FROM CNN's Jack Cafferty:
There's growing speculation in Alaska that Governor Sarah Palin won't run for reelection in 2010. Politico reports that top Republicans and Democrats are quietly lining up to run for the office - should Palin decide not to.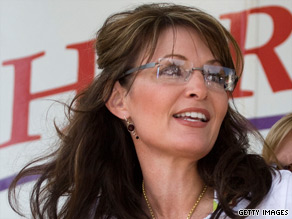 No one has filed the official paperwork yet; but many are taking the governor's silence as a sign that she'll opt out of a second term in order to get more involved in national politics.
One politician who is weighing a run put it this way: "If you're Palin, once you've flown first class, you don't go back to coach. She's been to the show and certainly seemed to like it there."
He suggests that barring some "unforeseen collapse on the national stage," Palin won't run again for governor.
Some experts expect the governor to wait as long as possible before announcing her plans - that way she can keep her options open and minimize her lame duck status as governor if she decides not to run again.
Although Palin's approval ratings have taken a hit since she ran with John McCain, she's still strong enough to scare off most challengers in her own party. One former staffer says if Palin files for reelection, the race is over.
A recent CNN/Opinion Research Corporation poll shows 21-percent of Republicans would back Palin as the 2012 presidential nominee - putting her at the top of the pack.
Here's my question to you: What message would Alaska Governor Sarah Palin send if she chooses not to run for reelection?
Interested to know which ones made it on air?
Artisha from Virginia writes:
I hope by her not running for re-election she is sending the message that she will do us all a favor and go away. Governor Palin is one of the most divisive politicians in the country. We need politicians who are unifiers and believe in all Americans, not someone who believes that only white Americans from small, rural towns are the "real Americans".
Eric from Texas writes:
Just couldn't let a week pass without bringing up Palin, could you, Cafferty? Look, I get it! I understand Obama's approval ratings are falling. I get it already! You don't have to hammer the point! But you should stop throwing up these b.s. red-herring Palin stories every time your Messiah starts stumbling. Americans are wiping their eyes and finally seeing the "Emperor's New Clothes."
Dominic writes:
Jack, Her message is that the GOP is over. That is the message.
S. writes:
She's a lame duck in Alaska anyways. She won't run for re-election because losing in her home state will boot her out of national politics once and for all.
Chaz writes:
Jack, Why are you infatuated by this woman? I don't understand it. I am a Republican. Out of 15 Republican friends, I don't know one who would vote for her. I know you want her to run so Obama would have a free pass, but it's not gonna happen.
Mike writes:
Hopefully it will be a message in traditional Palin grammar: "I decided not to run for Governor in 2010 so that I, as an American, as all of us are, together for prosperity and a functioning democracy, can too not re-elect me for Governor. Can we not too join together to take part in, and of, around, and throughout a simply majority, decipher this great promise of equality for all, and oil money for some." *Wink*