FROM CNN's Jack Cafferty:
A majority of Americans disapprove of the new law that expands the government's power to regulate the manufacturing, marketing and sale of tobacco. A Gallup Poll shows 52-percent of those surveyed - including most smokers - are opposed to the measure, while 46-percent support it.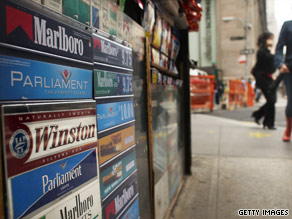 Cigarette ads are visible at a Manhattan newsstand. Yesterday, Pres. Obama signed the Family Smoking Prevention and Tobacco Control Act.
College graduates and Democrats are more likely to support it... while Republicans and those with a high school education or less are more likely to be against it.
President Obama signed the law yesterday, giving the Food and Drug Administration power to ban candy-flavored and fruit-flavored cigarettes - which are targeted at young people.
It also prohibits the tobacco companies from using terms like "low tar," "light" or "mild," requires larger warning labels on packages, restricts advertising, and requires companies to reduce nicotine levels in cigarettes.
It's estimated than more than 400,000 people still die every year from tobacco-related illnesses. Health care costs related to tobacco top $100 billion annually.
Meanwhile... on a personal note, the president admitted in today's press conference that sometimes he's "fallen off the wagon" in his effort to quit smoking. Mr. Obama says he's "95-percent cured," but it's something he continually struggles with, like alcoholics do - which is why he believes the anti-smoking legislation is so important.
Here's my question to you: Should the government have additional powers to regulate tobacco?
Interested to know which ones made it on air?
Randy from Salt Lake City writes:
Yes indeedee! I think the government should have total control over every aspect of my life. I have no willpower! I have no ethics or morals! I need Jesus and the government to tell me how to run my life! I want to be a lemming!
Ken from North Carolina writes:
The new law gives the government power to regulate the manufacturing, marketing and sale of tobacco. The government outlawed booze and people still made it and got it and drank it. The government outlawed certain drugs and people are still getting them and using them. The government has been given the power to regulate tobacco so it will still be available to buy, smoke and die from. If you don't smoke and don't have kids it doesn't make any difference. If you smoke and want to continue, it doesn't make any difference either.
Paulette writes:
Government should shut down the production of tobacco products. I lost my father to emphysema in 1997 because he was a three-pack-a-day smoker for near 50-years. I watched him struggle and lay beside him when he passed away. Let these greedy congressmen and lobbyists tour an emphysema center and see the end results of big tobacco.
Tzivia from New Mexico writes:
Jack, are you kidding? We banned Ephedra when it was suspected of a handful of bad side effects; we pulled artificial sweeteners when mega-doses caused cancer in rats. Why is this lethal, addictive substance still legal? 23-years ago next week, my father, also named Jack, died of lung cancer.
Craig writes:
Like many college-educated, left-leaning professionals, my hypocrisy is evident in my desire for more regulation of tobacco and less of marijuana. Go figure, Jack.