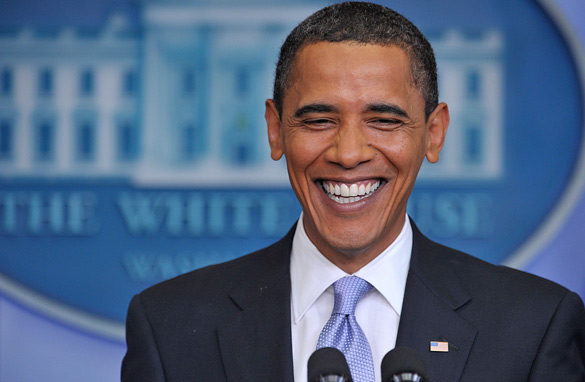 (PHOTO CREDIT: MANDEL NGAN/AFP/Getty Images)
FROM CNN's Jack Cafferty:
President Barack Obama's honeymoon with the American public might be over.
Princeton professor Julian Zelizer writes in a piece on CNN.com that the president who once seemed invincible is now seen as potentially vulnerable, stating "This is when the sharks start to circle in American politics."
Zelizer points to the tensions between the left and center of the Democratic Party. For example, gay rights activists are disappointed with President Obama for not living up to promises they thought he made. Cracks in party unity will likely make it more difficult to get legislation like health care through Congress.
Then there's the deficit... Republicans have gained some political traction by seizing on the record spending and linking the president's policies to the government's red ink. There's also the wider question of the economy - now that things have stabilized, voters aren't as panicked; and Republicans are asking why the U.S. needs to spend stimulus money if the recession is almost over.
On the international front, the president is facing criticism over his response to crises like Iran and North Korea.
Nonetheless, even though some are taking issue with the president's policies, polls show the president himself remains very popular among Americans.
A CNN poll of polls shows Mr. Obama with a 60-percent approval rating. His average rating has held steady for the last two months and is higher than those of Presidents Bush or Clinton at a comparable time in office.
Here's my question to you: Is President Barack Obama's "honeymoon" over?
Interested to know which ones made it on air?
Doug from Dallas writes:
President Obama has tackled more problems in his first five-months as president than most new presidents would see in one or two-years. He is becoming a victim of the American "instant gratification" syndrome. Forget about the fact that all of the issues on his plate not only require tough decisions – they also won't pay instant dividends.
Jeff from Sioux Falls, South Dakota writes:
For the sake of the country, I hope Mr. Obama soon puts an end to his own "honeymoon" by pushing the audacity envelope on a number of issues. Someone has to aim high once in a while. When members of his own party get nervous enough to ape the opposition, he'll know he's on the right track. An end-run around Congress aimed directly at the American people could easily energize the electorate into doing much of the blocking for him.
Agnes from Scottsdale, Arizona writes:
Jack, The president's honeymoon was over the night of the inauguration. His style, wisdom and demeanor are traits that the hard-line DC crowd can't get their hands around. Baffled as they are, they try to spin discord. Barack Obama has shown the courage to take huge steps, intervene as necessary, and stay the course. Let's see what we're thinking 12 months from now - I'll bet a cactus we'll be even better off.
Mike from Guatemala writes:
Jack, His honeymoon has been like a honeymoon with your mother-in-law along. I admire him for most of his ideas but am nearly 100-percent skeptical that they can become reality because there is no money to pay for them. As other politicians, including many Democrats, see the funding problem, his honeymoon will come to an end very quickly.
Don from Racine, Wisconsin writes:
It will be over when Chris Matthews' leg stops tingling.