FROM CNN's Jack Cafferty:
A majority of Americans disapprove of the new law that expands the government's power to regulate the manufacturing, marketing and sale of tobacco. A Gallup Poll shows 52-percent of those surveyed - including most smokers - are opposed to the measure, while 46-percent support it.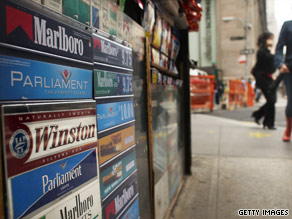 Cigarette ads are visible at a Manhattan newsstand. Yesterday, Pres. Obama signed the Family Smoking Prevention and Tobacco Control Act.
College graduates and Democrats are more likely to support it... while Republicans and those with a high school education or less are more likely to be against it.
President Obama signed the law yesterday, giving the Food and Drug Administration power to ban candy-flavored and fruit-flavored cigarettes - which are targeted at young people.
It also prohibits the tobacco companies from using terms like "low tar," "light" or "mild," requires larger warning labels on packages, restricts advertising, and requires companies to reduce nicotine levels in cigarettes.
It's estimated than more than 400,000 people still die every year from tobacco-related illnesses. Health care costs related to tobacco top $100 billion annually.
Meanwhile... on a personal note, the president admitted in today's press conference that sometimes he's "fallen off the wagon" in his effort to quit smoking. Mr. Obama says he's "95-percent cured," but it's something he continually struggles with, like alcoholics do - which is why he believes the anti-smoking legislation is so important.
Here's my question to you: Should the government have additional powers to regulate tobacco?
Interested to know which ones made it on air?