FROM CNN's Jack Cafferty:
President Obama's plan to push through health care reform this year is very much in danger of being dead. Top Democratic advisers are urging the president to get even more involved in the debate before it's too late.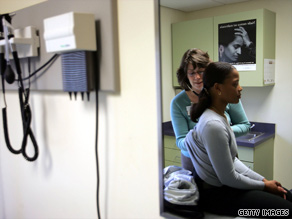 The Congressional Budget office last week put the price tag at more than $1 trillion over the next decade; and said it would still leave millions of Americans uninsured.
Republicans have seized on this, insisting that health care reform may be too expensive at a time when we're already facing huge deficits. Senator Lindsey Graham called the CBO estimates a "death blow" to a government-run health care plan.
Some in the GOP suggest an overhaul of the nation's health care system just might have to wait for a while. They're also accusing the White House and Democrats of trying to rush through what they see as flawed legislation this year, before the mid-term elections in 2010.
The White House acknowledges there are legitimate concerns about the proposed legislation, but says the president is confident that setbacks are a normal part of what happens in Congress and that this legislation will get though Congress by the end of this year.
One senior official tells CNN, "We're not hysterical. We've seen this movie before."
But some people are not convinced, including some members of the president's own party. Senator Dianne Feinstein says she's not sure there are enough votes among Democrats to get this thing through. And she's probably right.
Here's my question to you: Why is health care reform suddenly in danger of not happening?
Interested to know which ones made it on air?
Darren writes:
Plain and simple, Capitol Hill is controlled by bankers, big business, and special interest groups, all vying for the failed health care-for-profit model to continue making them all lots and lots of hard earned money.
Sam writes:
Some Democrats finally woke up from their Obama-induced comas and realized this is a very bad plan?
Ronald writes:
Certain media figures, such as Cafferty, are deliberately slanting their coverage of the national health care plan to try to defeat it. Why not quote the New York Times poll which showed 72% of Americans are in favor of a government run national health care plan? We are tired of being snowed by the health industry and insurance lobbyists. Give us health care.
Mike from Denver writes:
It is all about perception. Right now, it seems like the plan costs too much, does too little, and is risky enough that Democrats will not even line up behind it. With that kind of marketing, they should be thankful the press has been so kind.
Ed writes:
The reason health care reform is in danger of failing is because the U.S. is the only nation in the world that has made a for-profit business out of health insurance! We don't need to spend more for universal health care, just ban for-profit health insurance and millions of dollars will be available to cover the uninsured!
Ryan writes:
I put the blame on medical lobbies and the ease with which they can purchase votes from most GOP members and some of the Democrats!
Michael from Lorton, Virginia writes:
Jack, You can insure some of the people some of the time, but you can't insure all of the people all of the time. It is too damn expensive.