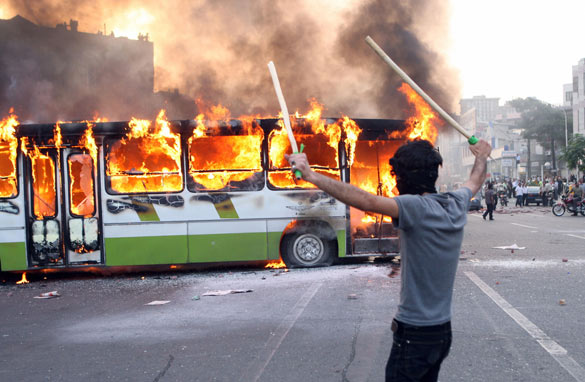 An Iranian protester stands next to a burning bus during clashes with Iranian police at a demonstration in Tehran. (PHOTO CREDIT: ALI SAFARI/AFP/Getty Images)
FROM CNN's Jack Cafferty:
Iranian protesters aren't packing up and going home - despite warnings from the government that they should do just that.
Earlier today, the elite Revolutionary Guard warned that people who "disturb the peace and stand up to security forces" would be met with a strong response.
And they meant it... as riot police attacked hundreds of demonstrators with tear gas and fired live bullets into the air to break up one rally in Tehran today. Witnesses also said that helicopters hovered overhead; and they noted heavy police presence in other parts of the city.
The country's highest electoral authority - which has supposedly been investigating allegations of voter fraud - acknowledged that there were voting irregularities in 50-electoral districts. Nonetheless, the council insists the problems don't affect the election results.
But opposition candidate Mir Hossein Mousavi is vowing to keep up the protests - defying the country's supreme leader.
It's impossible to know for sure how many people have been killed and injured in these protests since the Iranian government is severely restricting international media coverage. Reporters Without Borders says 20 journalists have been arrested in the past week, while many others have been kicked out of the country.
Nonetheless, violent amateur videos and pictures continue to make their way out of Iran though social networking websites.
Here's my question to you: Can the protesters ever prevail in a country like Iran?
Interested to know which ones made it on air?
Billy from Las Vegas writes:
Yes, Jack, but only if the young people in the army and police join them like they did in Russia in 1991. Otherwise the Iranian kids will end up like the Tiananmen Square kids in Communist China two decades ago. Unfortunately it looks like the latter is going to happen.
Darren writes:
With the advent of Twitter and YouTube, clearly the government's ability to cloak their ruling with an iron fist is coming to an end as more and more Iranians demand a better way of life. Not necessarily a democracy, but something a bit more 21st Century.
Thomas from Ft. Lauderdale writes:
Jack, I'm afraid the only way that Iranians can take their country back is to arm themselves. It's what our forefathers did. They took up arms and fought the injustice until they succeeded. They didn't walk down the street showing a peace sign – if only that was enough. While I hate violence of every kind, this regime will understand nothing less.
Dorothy from Washington writes:
The protesters must keep at it. Freedom is worth everything. I was 14 years old when the U.S. government allowed the police to beat us with batons, hose us down with water, and sick dogs on us. My brother was severely injured after being bitten repeatedly by a dog held by a police officer… No international help came, but we persisted. The cost of freedom can never be underestimated. I pray that the Iranian citizens are able to free themselves from the current government.
F. from Manchester, New Hampshire writes:
Who will win in Iran? Just like the pen is mightier than the sword, the camera-phone is mightier than the gun. The old fogies running the country can't even figure how to block the media. The protesters will win, eventually if not right now.