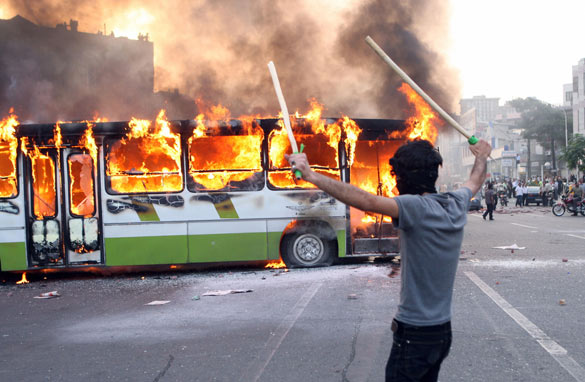 An Iranian protester stands next to a burning bus during clashes with Iranian police at a demonstration in Tehran. (PHOTO CREDIT: ALI SAFARI/AFP/Getty Images)
FROM CNN's Jack Cafferty:
Iranian protesters aren't packing up and going home - despite warnings from the government that they should do just that.
Earlier today, the elite Revolutionary Guard warned that people who "disturb the peace and stand up to security forces" would be met with a strong response.
And they meant it... as riot police attacked hundreds of demonstrators with tear gas and fired live bullets into the air to break up one rally in Tehran today. Witnesses also said that helicopters hovered overhead; and they noted heavy police presence in other parts of the city.
The country's highest electoral authority - which has supposedly been investigating allegations of voter fraud - acknowledged that there were voting irregularities in 50-electoral districts. Nonetheless, the council insists the problems don't affect the election results.
But opposition candidate Mir Hossein Mousavi is vowing to keep up the protests - defying the country's supreme leader.
It's impossible to know for sure how many people have been killed and injured in these protests since the Iranian government is severely restricting international media coverage. Reporters Without Borders says 20 journalists have been arrested in the past week, while many others have been kicked out of the country.
Nonetheless, violent amateur videos and pictures continue to make their way out of Iran though social networking websites.
Here's my question to you: Can the protesters ever prevail in a country like Iran?
Interested to know which ones made it on air?