FROM CNN's Jack Cafferty:
U.S relations with North Korea seem to get more tense with each passing day. Defense Secretary Robert Gates says the U.S. could defend itself if North Korea launches a missile toward Hawaii.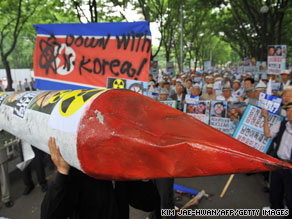 S. Korean activists carry a mock missile at a rally in Seoul.
Gates says there are missile interceptors and radar equipment deployed, and "we are in a good position should it become necessary to protect American territory."
This comes after a Japanese newspaper reported that North Korea might fire its most advanced ballistic missile toward Hawaii sometime around July 4. Although the missile isn't expected to reach U.S. territory - it would be a real slap in the face to the U.S. and the international community.
And there's more... the U.S. is also tracking a North Korean ship in the Pacific; it's believed to be carrying illegal weapons or technology.
North Korea has been making waves since May - when it conducted a nuclear test, fired test rockets and threatened U.S. and South Korean ships near its waters. Also last month, U.S. satellites spotted vehicle activity at a North Korean ballistic missile facility.
The UN has since slapped new sanctions on the country... to which North Korea responded with threats of war and promises to expand its nuclear bomb-making program.
Meanwhile, a new Gallup poll shows more Americans view North Korea as a direct threat to U.S. security than any other country in this survey. President Obama says the country's nuclear program is a grave threat to the world.
Here's my question to you: If North Korea fires a missile toward Hawaii, is the time for talking over?
Interested to know which ones made it on air?
Alan from Jonesboro, Georgia writes:
Perhaps we should demonstrate our military capabilities to North Korea by shooting their missile out of the sky, whether it comes near Hawaii or not. As this would occur over international waters, China and Russia can't say or do anything about it. Secretly, I think they would applaud, as keeping North Korea in its place benefits them as well.
Aaron writes:
No, the time for talking would not be automatically over. North Korea has one of the largest militaries in the world, and their closest ally is China. Any military action could cause WWIII to break out. Diplomacy has got to go the extra mile on this issue, but the time would definitely be justified for some serious saber-rattling.
Tom from Philadelphia writes:
I'm a liberal pacifist, but I think if the trajectory is toward Hawaii, then it needs to be shot down and every power plant bridge and broadcasting station needs to be destroyed. We also need a U.N.-imposed government to bridge to a democracy.
Terry writes:
Absolutely! My wife is Chinese and was an officer in the Chinese Army for 10 years. She is astounded that the U.S. and the West haven't figured out that the North Koreans lie about most everything just to get concessions from the West and then do what they want. Her view point, get out of Iraq now, quit talking to North Korea and slap them down.
Al from Hawaii writes:
Jack, I'm from Hawaii, and I don't worry that the backward technology of the North Koreans can do us any harm. What I do worry about is that we maintain our calm, and respond to these childish provocations with dignified negotiation.
Paul writes:
I believe Japan tried that back in 1941. It didn't work out too well for them.