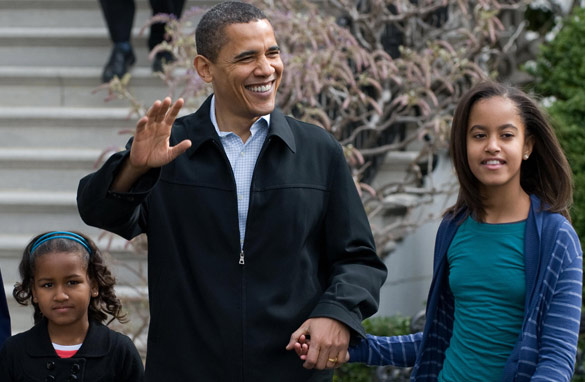 (PHOTO CREDIT: GETTY IMAGES)
FROM CNN's Jack Cafferty:
Sunday is Father's Day... and President Obama won't let it go by unnoticed.
He's devoting a large part of today to promoting the importance of being a good father as a national goal. The president is attending a series of events around Washington - including a town hall on personal responsibility and inviting boys from local schools to the White House. He's joined by high-profile athletes, actors and celebrities.
The president also wrote an essay that will appear in Parade magazine on Sunday. In it, he talks about growing up without a father around; and how that helped him understand the importance of fatherhood. Mr. Obama states:
"We need fathers to step up, to realize that their job does not end at conception; that what makes you a man is not the ability to have a child but the courage to raise one."
The president admits that he's an imperfect father - making mistakes, and sometimes allowing work to interfere with his responsibilities as a dad.
On the campaign trail last year, Mr. Obama often talked about the importance of fathers being present and active - especially within the African-American community.
There are about 24-million children growing up with absent fathers in this country; a disproportionate number of them are black. These children are more likely to fall into poverty and crime, and become parents themselves as teens.
Here's my question to you: What kind of impact can President Obama have on fathers and families?
Interested to know which ones made it on air?
Faye writes:
He's going to have a huge impact by just continuing to live life as he does. He's not just telling us but showing us an example of a good husband and father. We are so fortunate to have a man like this in the White House. Happy Father's Day to all fathers. everywhere.
Joe from St. Louis writes:
By creating an environment where they can find secure long-term jobs.
John from Seattle writes:
If we want better fathers in America, then we need better mothers. A man cannot enforce his custody rights without going to court. And since women are taking half of our income in child support, we can't afford a lawyer. So we just give up. When women stop using children as weapons to punish their children's fathers, we will see the number of absentee fathers drop dramatically.
Glenn writes:
Jack, I know from experience what it's like to grow up without a dad. It's something that will leave an indelible impression on a child's life permanently, as in, forever. If Pres. Obama wants fathers to be more responsible to their kids, then I say amen. He is to be commended for his concern for fatherless children. That hasn't happened in this country for a long time.
Claudia writes:
President Obama can only set the tone. The men who already act fatherly will continue to do so. Perhaps some "biologicals" will be nudged into the father column.
Krissy writes:
Obama is a great example, not only for men, but also for women who are making decisions about the type of men they want in their lives. He raises the bar for what people should expect from parents, and I think it is a great thing for our country. Engagement with your children is so important. It is good that he knows that being a good president isn't just about passing laws, it is challenging us to be our best selves.