FROM CNN's Jack Cafferty:
After a week of mostly peaceful protests in Iran - it seems like the demonstrators may now be headed for a showdown with the government. Iran's supreme leader is warning of a crackdown on protesters if they continue their massive street rallies.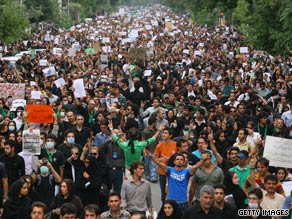 Iranian supporters of defeated reformist presidential candidate Mir Hossein Mousavi demonstrate in Tehran.
The Ayatollah Ali Khamenei says opposition leaders will be held accountable for "all the violence, bloodshed and rioting" if they don't stop. He also says the re-election of President Mahmoud Ahmadinejad wasn't rigged, and pretty much ruled out any chance for a new vote.
This leaves supporters of the opposition candidate Mir Hossein Mousavi with two options: either pack up and go home or continue to protest... knowing that things could get ugly.
Khamenei insists Iran won't see another revolution, and that the street protests won't have any impact. But, what if he's wrong?
What if the 70-year-old supreme leader isn't in tune with the majority of Iranians - 70-percent of whom are under 30-yearsold and tech savvy? Already - these protests represent the greatest challenge to Iran's Islamic rulers since the 1979 revolution.
The hundreds of thousands of protesters could end up influencing Iran's relations with nations around the globe - from the U-S to Europe to Israel; not to mention what a revolution in Iran could mean for citizens of neighboring countries like Pakistan and Saudi Arabia.
Here's my question to you: What would it mean to the rest of the world if the protesters in Iran are successful?
Interested to know which ones made it on air?
Jerry writes:
A crack has appeared in a 3,000+ year conflict in this part of the world. The opportunity for choice has never been more evident and wanted by what appears the majority of Iranians. If Mousavi should prevail, which is unlikely, it could signal to other Islamic countries that freedom to choose is acceptable.
Tommy writes:
It would mean that a stronghold of Islamic-controlled government is vulnerable and perhaps further liberalization of Islamic countries around the world. Not to mention the potential for women's rights in Iran as well.
David from Tampa, Florida writes:
Not much, Jack. While the b.s. would abate, the ayatollahs would still be running things and would expect certain things from their president. Not to worry, if the "Green Wave" doesn't go home - look for another Myanmar-style suppression. Too bad their citizenry isn't armed to the teeth like ours is.
Richard from Montreal writes:
Jack, It would mean that President Bush was right for preaching freedom and democracy in The Middle East and should be given some credit for his foreign policy. It will definitely help his legacy.
Gary writes:
Jack, The key to protester success in Iran lies not with the Ayatollah or the protesters, but with the Iranian army. They, like the majority of protesters, are young and could well find reason to refuse to fire on or put down the demonstrations. Therein lies the key.
Stephen writes:
If Iran protests are successful, the next day the largest oil field in the world will be discovered in Israel and at 260 lbs I will ride the winner in the next Kentucky Derby.
Rana writes:
Hi Jack. It would have a huge effect in the area. Iranians are in favor of relationships with the U.S, Israel and any other country. They want a good economy and peaceful relationship with all countries. As an Iranian-American, I thank you and CNN for bringing us the news.