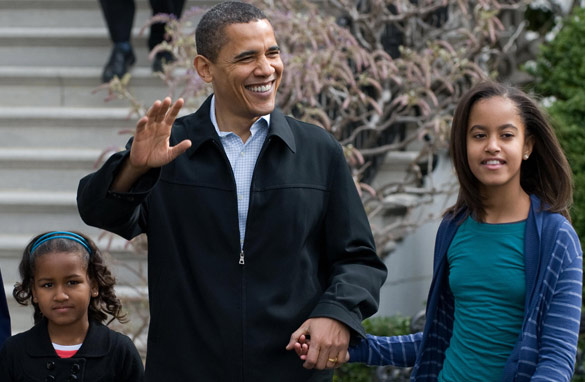 (PHOTO CREDIT: GETTY IMAGES)
FROM CNN's Jack Cafferty:
Sunday is Father's Day... and President Obama won't let it go by unnoticed.
He's devoting a large part of today to promoting the importance of being a good father as a national goal. The president is attending a series of events around Washington - including a town hall on personal responsibility and inviting boys from local schools to the White House. He's joined by high-profile athletes, actors and celebrities.
The president also wrote an essay that will appear in Parade magazine on Sunday. In it, he talks about growing up without a father around; and how that helped him understand the importance of fatherhood. Mr. Obama states:
"We need fathers to step up, to realize that their job does not end at conception; that what makes you a man is not the ability to have a child but the courage to raise one."
The president admits that he's an imperfect father - making mistakes, and sometimes allowing work to interfere with his responsibilities as a dad.
On the campaign trail last year, Mr. Obama often talked about the importance of fathers being present and active - especially within the African-American community.
There are about 24-million children growing up with absent fathers in this country; a disproportionate number of them are black. These children are more likely to fall into poverty and crime, and become parents themselves as teens.
Here's my question to you: What kind of impact can President Obama have on fathers and families?
Interested to know which ones made it on air?