FROM CNN's Jack Cafferty:
When it comes to showing support for thousands of Iranian protesters - critics say President Obama is not doing enough. Republican Congressman Mike Pence has introduced a resolution that would "speak a word of support for the people of Iran."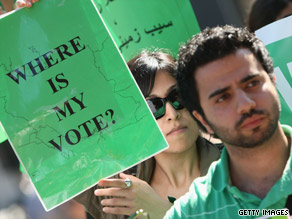 He says he doesn't think the U.S. should endorse the opposition candidate; but rather show support for protesters who are "risking their lives for free and fair elections."
Also, The New York Times reports that while some senior administration officials like Vice President Joe Biden and Secretary of State Hillary Clinton support the president's approach, they too would like to strike a stronger tone of support for the protesters.
But other officials believe a more cautious approach is the way to go... they say harsh criticism of Iran's government or more support for the protesters could end up backfiring - by making it seem like the U.S. is behind these efforts.
Some point out that the president can't only focus on the protesters since there are many issues to worry about when it comes to Iran - including the nuclear one.
Despite President Obama's more muted response to events, the Iranian government is still accusing U.S. officials of meddling. The State Department insists that Washington is withholding judgment about the election and not interfering with Iran's internal affairs.
Here's my question to you: Should the United States be doing more to help the Iranian people?
Interested to know which ones made it on air?
Jack from Whitesboro, Texas writes:
We are probably doing more behind the scenes. I don't think we should do more than we are doing publicly at this time. I think President Obama is walking a tight rope and doing it very well. I support him in his approach.
Stacy from St. Augustine, Florida writes:
The president is doing the right thing. Stay out of this. The Iranian government is accusing the U.S. of meddling now. If we really start to meddle, the situation will blow up in our face and we will be blamed for the whole election scam and all of Muslim world will believe it. A bit of U.S.-Iranian dialogue has just started, don't kill it. The problem will be and should be solved by the Iranians.
Denise from Phoenixville, Pennsylvania writes:
Jack, As I listen to the Bush-like comments of John McCain, I am frankly relieved that he was not elected president. His hawkish rhetoric, along with the attitudes of many conservatives who have been critical of the president's restraint, terrify me. Imagine where we would be if they had prevailed last November? We would be on the brink of war!
Dick from Horn Lake, Mississippi writes:
I find myself surprisingly in agreement with Obama on this issue, perhaps for the only time. This is delicate and officially our stance should be very reticent. Hopefully the administration hasn't run off all of the good black ops people and the CIA is working the heck out of this for us.
Robin from Michigan writes:
I think the U.S. is in a very tough position given their strained relationship with Iran. However, the fact that the State Department asked Twitter to forgo closing down service for scheduled maintenance two days ago speaks volumes. They clearly did not want for the Iranian protesters to lose this important tool. I believe they also wanted the people inside Iran to be able to receive the messages of support from the American people.