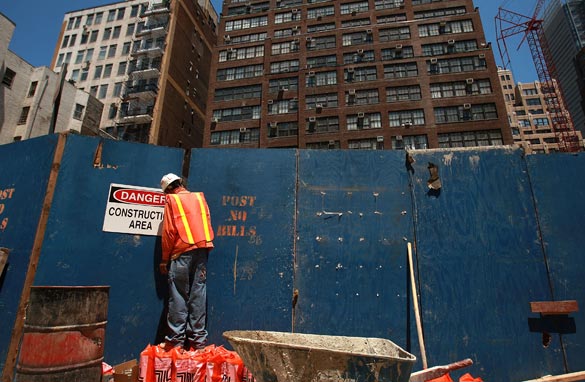 (PHOTO CREDIT: GETTY IMAGES)
FROM CNN's Jack Cafferty:
Three illegal aliens have been awarded a total of $3.85 million in damages for accidents on New York City construction sites.
The lawyer for the men says all these cases involved "terribly unsafe working conditions" and he re-emphasizes to all undocumented workers that they have the same rights once they're on the job as any New York citizen.
In one case - An undocumented plumber from Mexico was scalded by an exploding pipe at a Wall Street construction site; he settled his damage claim for $2.5 million.
Another undocumented Mexican worker suffered severe injuries when a steel beam fell on his lower body; he settled for $750,000.
And a third laborer from Ecuador settled a damage claim for $600,000 after being injured when three large trusses collapsed onto him.
One immigrant advocacy group says while construction work is often dangerous - undocumented workers are likely to work at sites that lack safety equipment and don't meet regulations.
Of course, it is illegal for an employer to hire an undocumented worker; but according to New York City law - if an illegal alien is hired by an employer he then has the right to be paid minimum wage and overtime, the right to health protection and workplace safety and the right to organize to improve labor conditions.
That is - even though these workers are in the United States illegally in the first place... and should have never been hired.
Here's my question to you: Should illegal aliens collect damages for injuries sustained while working in this country?
Interested to know which ones made it on air?
Greg from Ontario writes:
No, and it's easy to fix. I'll bet all three of those jobs were bid on by several builders. What if the law stated that they lose the job and are kicked off the site if they use illegals? Weighing the possible losses against the poor quality, unsafe working habits of the illegals would be a no-brainer even for these greedy contractors.
Bill writes:
Perhaps if the illegal aliens could read English then their injuries could have been avoided. But, then again, the legal profession loves a happy ending to the tune of 35% of $3.85 million. Who says the recovery is slow?
Helena from Clearwater, Florida writes:
If the damages are against the employer then yes, the employer should pay the damages and the cost of all medical treatment. But as soon as the illegal status is revealed, the employee should be deported and the employer should be fined by our government. Maybe then this business of hiring illegal immigrants will diminish.
Gil writes:
Why should people who are breaking the law and cheating the system get to benefit from the laws and the system they're abusing? Why should they get any kind of reward or settlement? Take them to the embassies of their countries and wish them well. Their governments should take care of them.
Kevin from Dallas, Texas writes:
Absolutely. I'm not fond of illegal immigration, but if they get hurt on the job then their employer should pay damages.
D. from New Hampshire writes:
This is nuts. No, illegals should not collect damages and these companies should be heavily fined. With unemployment pushing 10% it should be no problem finding U.S. citizens who are willing to work. It just goes to show you how greedy some people are.