FROM CNN's Jack Cafferty:
Thanks to the economy - millions of people are being forced to redefine what "retirement" will mean for them. USA Today reports how many of the 77 million baby boomers are coming to terms with a new reality: Working longer, saving more, and spending less.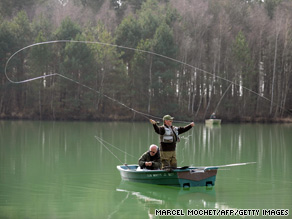 AARP says nearly a quarter of Americans aged 45-to-54 have put retirement plans on hold.
They've seen the Wall Street crisis affect their retirement savings more than any other group. Many have lost jobs at a time they expected would be their peak earning years... and are now trying to find a new job.
Baby boomers are typically out of work longer than younger Americans - sometimes finding it harder to get a new job because they've had higher salaries; but also because they may be rusty at applying for jobs and their skills could be out of date. To make matters worse, their health care costs rise as they get older while their home values decrease.
Things are especially tough on a group known as the "Sandwich Generation" - people who are footing the bills for their children's college education and their elderly parents' long-term care, while trying to save for their own retirement.
According to A-A-R-P:
– 35-percent of people ages 45-to-54 have stopped putting money into their 401k, IRA or other retirement accounts
– 25-percent have withdrawn funds early from retirement accounts
– 56-percent have postponed a major purchase
– 24-percent have postponed plans to retire
As one boomer put it: "Today, I see myself working until I drop."
Here's my question to you: In light of the economy, how has your definition of "retirement" changed?
Interested to know which ones made it on air?
Markel from Houston writes:
We resolved long ago that we cannot depend on Social Security to be there for us. We've stashed everything we could into IRAs, 401ks and an annuity. We've been planning to work less by going into "semi-retirement" when the opportunity presents itself. Our big concern? Health insurance.
Karen writes:
Traveling, spending time at the beach in Baja has turned into living with my oldest daughter and her family, caring for my grandchildren. The hotel money is spent at the grocery store.
Ed from Montana writes:
Jack, A particularly painful question you ask today: After almost 40 years in the IT business and being a consistent top performer, they are off-shoring my job. I'm closing in on 60 so I will not get another IT job; the keyword they use for applicants in my field is energetic, which means under 40. I was within a few years of retirement, but now I am trying to learn a trade that I can become self-employed in, so I can keep my wife and myself from becoming a burden on society.
Esther from Ohio writes:
Retirement means poverty now.
Steve writes:
The new definition of retirement is collecting rent from the kids that moved back home after college and working part time at a second career at half the salary.
Frann from Los Angeles writes:
Retirement is an outdated term. I like the concept of the second half of life being considered the 'encore years' where valuable experiences are re-channeled into mentoring, consulting, working for want rather than just need. Retirement is an advertising slogan; it's not the reality of today. Just my two cents which used to be worth a lot more before the financial crash.
Steve writes:
I have adopted what I call a "working" retirement. Up at 5:30 am, coffee, go to work. My retirement happens at night, in my dreams.