FROM CNN's Jack Cafferty:
Thanks to the economy - millions of people are being forced to redefine what "retirement" will mean for them. USA Today reports how many of the 77 million baby boomers are coming to terms with a new reality: Working longer, saving more, and spending less.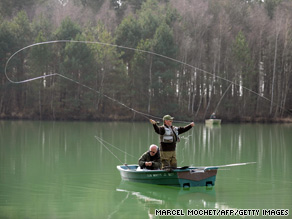 AARP says nearly a quarter of Americans aged 45-to-54 have put retirement plans on hold.
They've seen the Wall Street crisis affect their retirement savings more than any other group. Many have lost jobs at a time they expected would be their peak earning years... and are now trying to find a new job.
Baby boomers are typically out of work longer than younger Americans - sometimes finding it harder to get a new job because they've had higher salaries; but also because they may be rusty at applying for jobs and their skills could be out of date. To make matters worse, their health care costs rise as they get older while their home values decrease.
Things are especially tough on a group known as the "Sandwich Generation" - people who are footing the bills for their children's college education and their elderly parents' long-term care, while trying to save for their own retirement.
According to A-A-R-P:
– 35-percent of people ages 45-to-54 have stopped putting money into their 401k, IRA or other retirement accounts
– 25-percent have withdrawn funds early from retirement accounts
– 56-percent have postponed a major purchase
– 24-percent have postponed plans to retire
As one boomer put it: "Today, I see myself working until I drop."
Here's my question to you: In light of the economy, how has your definition of "retirement" changed?
Interested to know which ones made it on air?