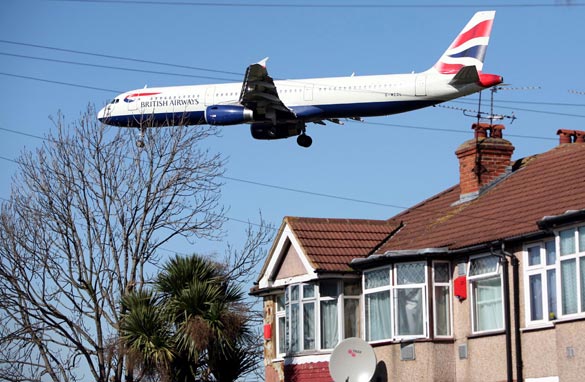 A British Airways passenger jet comes into land at London's Heathrow Airport. (PHOTO CREDIT: Matt Cardy/GETTY IMAGES)
FROM CNN's Jack Cafferty:
British Airways is asking thousands of its employees to work for free for up to a month.
Because of financial problems, the airline has e-mailed workers offering them between one and four weeks of unpaid leave - but with the option to work during this time.
Last month, the company showed a record annual loss of more than $650 million. As the global recession drags on, the airline is seeing demand for passenger seats and cargo space fall... while ever higher oil prices translate to more and more expensive jet fuel.
The CEO of British Airways recently said there were "absolutely no signs of recovery" in the airline industry - calling it "by far the biggest crisis" they've ever faced. He says he's agreed not to take a salary for the month of July.
But, one of Britain's biggest unions says employees can't afford to work for free for a month; they say while the company's CEO might be able to do that, ordinary workers can't.
British Airways - which employs more than 40,000 people in the UK - says the voluntary pay cut would be spread over several months. They say more than 1,000 people have signed up for their work-for-no-pay plan so far.
Here's my question to you: Would you be willing to work without pay for a month in order to try to save your job?
Interested to know which ones made it on air?
Sean writes:
No, I wouldn't. The point of working is to make money to live on. Why do I have this nagging feeling that if they weren't being paid, there would be few workers?
Ed writes:
I worked for a company that hit tough times. We all took a 10% pay cut to try and save cash and the company. Entrepreneurial types understand this; government employees and big company workers don't. By the way, the company failed. That's the risk you take.
Chuck writes:
Sort of defeats the whole purpose of working, doesn't it? Also sets a bad precedent, since it's tantamount to slavery.
Andrew writes:
Jack, If I had to give up one month's pay to save my job, I'd do it in a minute. Times are very difficult, anything to feed the family.
Jeremy from Orlando writes:
Jack, I did just that September last year. By November, the company I worked for went under and I haven't had steady work since. If your employer can't pay you for a month, it's time to find another job.
Barbara writes:
Loyalty from corporations are nil to none. It is not uncommon to be given a pink slip while away on vacation. No, I would not work for free on only a possibility of having a job. The company would need to guarantee in writing that I will be gainfully employed.
Lee from Pennsville, New Jersey writes:
That'll be next. My employer is already saying, "Just be glad you have a job." Why do I suspect this is a precursor for the necessity to work a month without pay?
Molly writes:
Yes, if the mortgage, the utilities and the grocery store bills are waived for that month!