FROM CNN's Jack Cafferty:
Whether or not there's another political revolution in Iran - there's no doubt the country has already witnessed a technological revolution. Iranian officials have been trying to clamp down on the flow of information in all the ways these regimes do - restricting the coverage of western journalists, kicking others out of the country, shutting down web sites.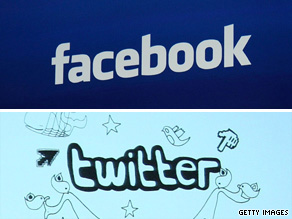 Iran's officials are trying to restrict the flow of information... but it's not working because of media tools like Facebook and Twitter.
But it's not working this time - and one of the big reasons is social media networks like Twitter and Facebook. Many of the young demonstrators - 70-percent of Iranians are under 30 - have used these technologies as a tool to coordinate their protests over the election's outcome. They're also posting graphic pictures and videos of the crackdown by officials.
The U.S. State Department points to Twitter as one of the ways Iranians can "get the word out," and officials in this country are even following these social networks. In fact, the government contacted Twitter at one point asking them to delay a planned update that would shut the system down temporarily.
Thomas Friedman writes in The New York Times about the diffusion of technology as one of the major factors changing the Middle East. He points to all this stuff - the Internet, blogs, YouTube, cell phone text messaging - as a way for people "to communicate horizontally, to mobilize politically and to criticize their leaders acerbically, outside of state control."
Here's my question to you: Will technology like Facebook and Twitter eventually help bring down the establishment in Iran?
Interested to know which ones made it on air?
Bill writes:
Jack, It used to be that you announced a shoot-to-kill curfew and took over the radio and tv stations, and you were done. We are so far beyond that now; I don't think the genie is going back into the bottle again.
HD from Phoenix, Arizona writes:
Not hardly. Iran is an Islamic dictatorship and the only thing that will bring that down would have to be on the level of a national revolution. People are giving Twitter and especially Facebook way too much credit here.
Matt writes:
Twitter and Facebook are things we take for granted in our society. We forget that they make the world a smaller place, and allow thoughts and ideas to travel anywhere instantly. The brands may change but the technology which is bringing the world together will define where we go from here on out.
Ray from New Braunfels, Texas writes:
The outcome of this is still up for grabs, but videocassettes bootlegged into Eastern Europe depicting what the western world is really like have been given some credit for the downfall of the Soviet Union. The truth has a way of empowering an oppressed society.
Fred writes:
Facebook and Twitter versus the Iranian government… Let me see, Jack, I pick the Iranian government. I haven't seen Twitter stop a bullet to the head. Have you, Jack?
Parisa from Houston writes:
I have big hopes for Iran, my father's country. I hope that the "new" majority in Iran, which is comprised of 20- and 30-somethings will be the ones to bring down the establishment in Iran. I'm staying tuned in to events via Twitter and Facebook myself. I know change won't come about easily or peacefully, but this is truly the beginning of the end for Iran's current establishment.