FROM CNN's Jack Cafferty:
One of the sharper financial minds out there says we're not out of the woods yet when it comes to an economic recovery. Despite what many see as glimmers of hope - economist Nouriel Roubini told a conference hosted by Reuters that the U.S. economy won't recover until the end of this year... And even then the growth will be weak and possibly short-lived.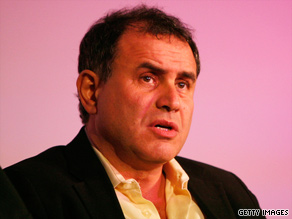 Economist Nouriel Roubini - who predicted the global credit crisis - does not think our economy will recover any sooner than the end of the year; and even then, growth will be minimal.
Roubini is the guy who predicted the global credit crisis - so he's probably worth listening to.
He doesn't buy the idea that a rebound is imminent; and instead says there's a real chance of a so-called "double-dip" recession - where the economy expands slightly only to start contracting again, "In addition to green shoots there are also yellow weeds."
Roubini says the U.S. unemployment rate will reach 11-percent before improving. He points to the contradiction between surveys that show the economy improving; and the reality of industrial production, which is down sharply. Also, he doesn't see many options for growth considering American consumers are already tapped out.
Roubini believes the Fed will keep interest rates low for a while, but: "Inflation will be a time bomb after that." He says the central bank missed the seriousness of this crisis at the beginning, but eventually did the right thing to avoid a depression. But he says all these emergency lending programs are not sustainable.
Here's my question to you: How confident are you the U.S. economy will recover by the end of this year?
Interested to know which ones made it on air?
Mari from Salt Lake City writes:
Yes, Jack, I am confident that the economy will begin to recover this year. We are already seeing signs: houses are selling again in our neighborhood, my husband has not had to lay off any more employees, and last time we went out to dinner and a movie, the restaurant and theatre were full.
D.A. from Lock Haven, Pennsylvania writes:
I'm not very confident. Obama should have given a larger tax cut to the lower and middle classes. They are the ones who would put the extra take-home pay right back into the economy, helping small businesses grow.
Bill writes:
I do believe the economy is recovering, but the rise in oil prices has me a little edgy. It was over $140 dollars a barrel about this time last year and if that won't spike a fuel-driven economy, what will? I believe the worst is over and as long as we pursue some of Obama's projects, things will turn around. The regulatory policies have driven the market down in recent days but will improve the overall picture.
Stef from Minneapolis writes:
Jack, You're forgetting about all us recent college grads who can't find jobs and can't get loans because we have too much college debt! Recently I got turned down for a $2,000 car loan because I spent so much on that precious college education. That is the real reason the U.S. economy won't recover by the end of this year, and probably not for a while.
Sherri from Illinois writes:
I hope and pray that it will because I've been unemployed for 11 months now with nothing in sight. It's awful.
Alex writes:
Jack, I think everyone is missing something crucial here: What if this isn't a recession at all? What if this is a correction? What if this is life now? Unless something is done to stabilize the dollar, regulate oil speculators, start investing some of this so-called 'stimulus money' in real infrastructure and bring real jobs back to the U.S., and fix healthcare in such a way that it benefits everyone... Then this is it. Welcome to our reality.