FROM CNN's Jack Cafferty:
President Obama wants to create another federal bureaucracy. This one would be a financial watchdog agency whose mission will be to protect consumers from deceptive or dangerous mortgages, credit cards and other financial products.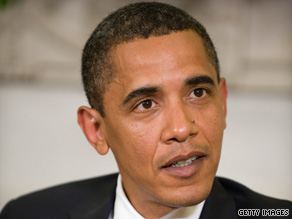 Supporters are calling it a "financial products safety commission" and compare it to the federal agency that oversees safety of toys and other products. The banking industry is not a fan of this idea, with critics saying it's bad for consumers and there are already several regulatory agencies that do this.
This new potential watchdog agency is just the latest in a string of moves by the Obama administration to increase the role of government - including everything from the bailouts and part ownership of the American auto companies GM and Chrysler, to the bank bailouts, to tighter rules on credit card companies and oversight of executive compensation.
Critics say the government is playing too big a role... Former President George H.W. Bush tells the Washington Times, "I think people are alarmed now. There's too much government intervention into everything... Too much. And too much spending."
Meanwhile - the American people seem to still be behind the president. A recent CNN/Opinion research Corporation Poll found 42 percent of those surveyed think the increased government involvement in how businesses are run is about right - 35 percent say the involvement has gone too far, while 23 percent think the government hasn't gone far enough.
Here's my question to you: When it comes to the government's role in our lives, has President Obama gone too far?
Interested to know which ones made it on air?
Robert writes:
A left-wing liberal advocating more government? Who saw it coming when we elected this president? Not to bash him though, the Republican alternative of pretending nothing is wrong is just as bad and it's what got us here. Time to reconsider the two-party system; they have both run the nation into the ground together.
Steve writes:
Yes, Obama is creating way too many czars. People need to take responsibility for their actions and not blame the mortgage companies and credit card companies because they got in over their heads. Obama is trying to save everyone from themselves.
Frank writes:
Fact is, the government isn't involved enough in the lives of Americans. The government is to govern for the people not to be used as a doormat for the wealthy and greedy with a big sign on it reading, "Welcome to America where you can take the public for a ride on us!"
Ken writes:
He promised change and asked for my vote. He got it. He didn't say I'm taking over your lives, sucker, but he sure has.
Rebecca from South Carolina writes:
Many of the problems we currently face resulted from government's relinquishing its regulatory role. As yet, the Obama administration has not gone far enough in reestablishing oversight.
Jay writes:
"The natural progress of things is for liberty to yield and government to gain ground." - Thomas Jefferson
Angela from Kentucky writes:
Oh boy, ya gotta love the banks yelping about too much government intervention so they can continue to rob and pillage their customers and the country with impunity! I'll take my chances with President Obama, thank you.