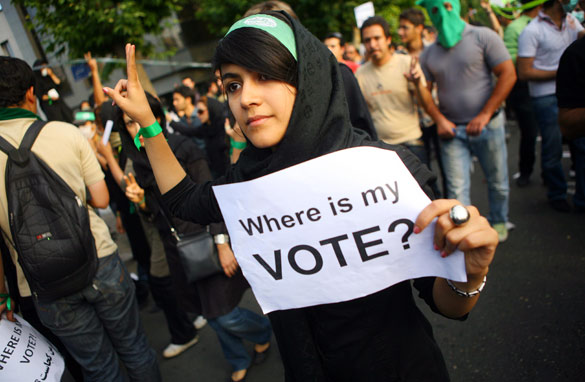 A supporter of defeated Iranian presidential candidate Mir Hossein Mousavi protests in Tehran, Iran. (PHOTO CREDIT: GETTY IMAGES)
FROM CNN's Jack Cafferty:
President Obama is walking a fine line when it comes to the controversy over Iran's election.
After several days of a cautious response from the White House - the president came out yesterday saying he was deeply troubled by the violence he was seeing on TV and that free speech and the democratic process need to be respected. Nonetheless, he said he wants to respect Iran's sovereignty and that it's up to the Iranian people to decide who their leaders are. Mr. Obama said he's not trying to dictate Iran's internal politics.
Critics are calling on the president to be stronger in his support of the Iranian protesters. House Republican whip Eric Cantor says the administration's "silence in the face of Iran's brutal suppression of democratic rights represents a step backwards for homegrown democracy in the Middle East." Senator John McCain has called the election corrupt and says President Obama should speak out that this is a fraud election.
Also, other foreign leaders have been more forceful in their condemnation, but experts acknowledge that President Obama is in a no-win situation... strong criticism could backfire, while a muted response gives an impression of weakness.
Also, while the president's message of change matches with that of the Iranian protesters - a young and tech-friendly bunch, much like his own campaign... the president doesn't want the U.S. to become the story in Iranian politics.
Adding to the pressure on Washington was the move by Iran today to severely restrict journalists' access to the protest rallies. That has raised speculation the government plans a violent crackdown... on the order of what happened in Tiananmen Square 20 years ago.
Here's my question to you: How should Washington proceed when it comes to Iran's election controversy?
Interested to know which ones made it on air?