FROM CNN's Jack Cafferty:
The battle over health care reform looks to be an uphill one for President Obama. The president was in Chicago today, asking skeptical doctors to get behind his plan to overhaul the system - calling it a "ticking time bomb" for the budget that could force the U.S. to go the way of GM.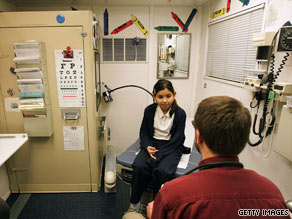 Mr. Obama swung out at critics - calling them naysayers and fear mongerers... and warned interest groups not to paint his efforts as socialized medicine.
For the first time, Mr. Obama said publicly this overhaul could cost $1 trillion over 10 years; he says that's "real money," but that it's less than what the U.S. is projected to spend on the Iraq War.
The president wants a new public program that would compete with private insurers; it would help cover the 46 million uninsured Americans. He doesn't want to do away with privately owned plans.
But Republicans are accusing the president of pushing a government takeover of health care.
And even members of the president's own party don't think health care reform can make it through Congress. Kent Conrad - Chairman of the Senate Budget Committee - says there aren't enough votes for the public option. Conrad says they're also going to have to attract some Republicans along with holding onto all of the Democrats.
Even though there are big questions about how to pay for all this, Conrad says the country can't afford not to change the system.
Here's my question to you: Do you think health care reform will pass Congress this year?
Interested to know which ones made it on air?
Nancy from Grand Ledge, Michigan writes:
I am fairly certain some kind of healthcare reform will pass. But I am afraid that Congress will water it down so much that it won't be the reform we need! They know how important this issue is to many Americans, and they want to be able to brag about their "reform" in the 2010 elections!
Janice from Collingswood, New Jersey writes:
I think a healthcare bill will be passed this year but there will be so much fighting over it, it will be almost useless. Either hospitals will close for lack of funds, or there will be a backup of over a year to get a simple procedure done. It will not be "patient friendly" and insurance companies will still be getting rich off of poor people.
Mark writes:
No, it will not pass. As a former lobbyist, I can honestly say it is very easy to stop legislation if there is enough special interest money wanting to do so. In this case, big pharma and the health insurance industry will use front groups to keep a safe distance but make sure their members of Congress either load it up with unrealistic amendments or just don't show up when it's time to vote (that way they can honestly say they didn't vote against it).
Scott from Scottsdale, Arizona writes:
Jack, Unfortunately no! Our country has already demonstrated that it will not endorse change until the system collapses, literally! Look at our financial system as a good example. Americans don't have the backbone to insist that their representatives in Congress speak for the people.
Kerry writes:
I'm hopeful that it will not pass in its present form. Given the extremely high yet underestimated costs, no clear plan or budget to pay for it… and a higher level of awareness by more citizens against it, proponents will be in for a tougher fight than they realize.
Gabriel from Hartford, Connecticut writes:
It depends on how many politicians are on sale this time.