FROM CNN's Jack Cafferty:
CIA Director Leon Panetta says it's almost as if former vice president Dick Cheney is wishing for another terror attack on the U.S. in order to make his point. Panetta tells The New Yorker that Cheney "smells some blood in the water" on the issue of national security.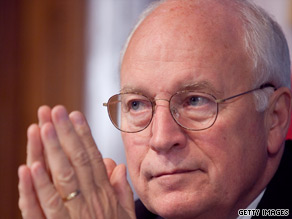 Cafferty: Cheney has been a very vocal critic of Obama.
He suggests Cheney's actions are like "gallows politics" and also calls it "dangerous politics."
Dick Cheney - whom we barely saw or heard from for eight years - has been a very vocal critic of President Obama these past few months... especially when it comes to national security. He has said that the new president is making the U.S. less safe by rolling back Bush era policies.
Cheney has criticized President Obama for ordering the closing of the Guantanamo Bay prison and for stopping the use of enhanced interrogation techniques. In a speech last month, Cheney called some of Obama's decisions "unwise in the extreme."
And guess what? Cheney's carping may be working. A CNN/Opinion Research Corporation poll taken last month shows Cheney's favorable rating at 37-percent - that was up from 29-percent when he and President Bush left office in January. Go figure.
In response to Panetta's comments, Cheney says: "I hope my old friend Leon was misquoted. The important thing is whether the Obama administration will continue the policies that have kept us safe for the last eight years."
Here's my question to you: CIA Director Leon Panetta says it's "almost as if" Dick Cheney is wishing for another terrorist attack on the U.S. Do you agree?
Interested to know which ones made it on air?
Andy from Vancouver writes:
As sick as it sounds, I think so. Cheney and his peers used 9/11 as a basis for all of their sketchy policies for over 7 years. Heck, they used the fear card to win the 2004 election. I'm sure Cheney thinks that the best way to revive the GOP is to have the chance to say "I told you so" – and while this would involve the loss of American life, the war with Iraq should tell you how little he cares for the lives of others.
David from Tampa, Florida writes:
Even as jaded as I am with Bush/Cheney, I don't think he would wish another terrorist attack on this country. He would like to see Obama's foreign policy fail, just as his administration's did. But I don't really think he would like another 9/11.
Johnny from Pittsburgh writes:
It certainly seems so. It seems like he is putting it out there in the whole wide world that "We are more unsafe and vulnerable than we have ever been. Now is your chance to have a go!" He's making us unsafe. He made us hated, and now he's making us vulnerable.
Dennis writes:
Absolutely. Cheney is of the mind that he will be vindicated if we are attacked again. Cheney's #1 interest is NOT America, it is Dick Cheney!
Todd writes:
Panetta's accusations are highly overblown, Jack. For all his flaws, Cheney is an American like the rest of us. The last thing he or any of us would like to see is another terrorist attack on this country.
Karen from Charlottesville, Virginia writes:
I think Cheney is trying to justify, in his own mind, the things he and Bush did over the last eight years. Wouldn't it make his waning years just a little bit easier if he could sit back in his armchair and say "I told you this would happen"?
Larry writes:
The dude is cold and a vicious politician. I would never bet against Dick Cheney. So whatever he wants will happen. I'm afraid of Dick Cheney.