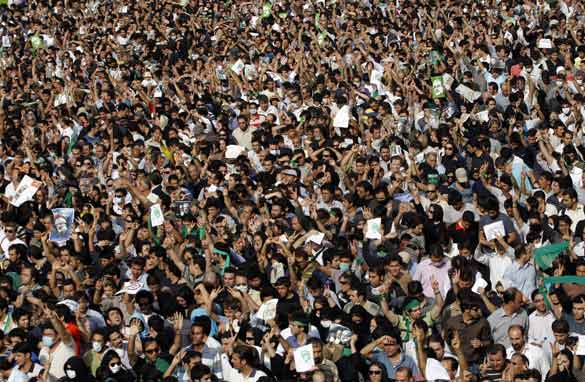 Iranian supporters of defeated presidential candidate Mir Hossein Mousavi take part in a rally in Tehran. (PHOTO CREDIT: BEHROUZ MEHRI/AFP/Getty Images)
FROM CNN's Jack Cafferty:
A lot of people aren't buying the outcome of Iran's elections, which had President Mahmoud Ahmadinejad winning with more than 62 percent of the vote.
Vice President Joe Biden says there's some "real doubt" about the results.
Experts point to many reasons why the elections could have been rigged: There is no independent monitoring, many voters are illiterate and officials help them fill in their paper ballots. There are also no booths, so all of the voting is done in public.
According to the official results - Ahmadinejad won in all regions of the country and among all classes and ages - which is highly unlikely. For example, Ahmadinejad won in cities where he is unpopular; and the opposition leader, Mir Hossein Moussavi, lost among his own ethnic group. Also, there were 40 million votes cast and just two hours after the polls closed, Ahmadinejad's victory was announced. In Iran there are no machines. All the votes have to be hand counted.
Moussavi's supporters have taken to the streets to protest the results - often clashing with police. Iranian media have mostly ignored the protests and international journalists were prevented from covering them. Some reporters have been arrested and others beaten by police.
All this was apparently enough for Iran's supreme leader Ayatollah Khamenei to allow an investigation into allegations of ballot fraud. A group of top clerics and judges is expected to issue its findings within 10 days.
Here's my question to you: Do you believe Iran's elections were honest?
Interested to know which ones made it on air?