FROM CNN's Jack Cafferty:
Experts predict the price of oil could soon hit $250 a barrel. Already, a barrel of crude is trading at almost $73 dollars - which is up from the lows of $30 a barrel only four months ago.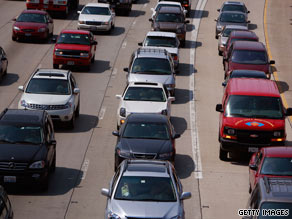 Prices are going up for lots of reasons; the big one is a new report that shows the world's proven crude reserves have fallen for the first time in 10 years. Demand for oil has gone up for the first time in 10 months; and as the global recession begins to wane, demand for energy is only expected to increase. Plus, it's the start of the summer driving season.
And, since oil is traded in dollars - a further decline in the value of the U.S. currency could also push oil prices higher. If oil prices keep going up, it's possible that could erase the glimmers of economic recovery we're starting to see.
Some analysts say they wouldn't be surprised if oil hits $80 or $90 a barrel soon; while the chairman of the Russian energy group Gazprom is repeating last year's estimates of $250 dollars barrel.
Meanwhile, rising oil prices mean rising gasoline prices. The national average price for a gallon of regular unleaded gasoline is now $2.63, according to AAA. Gas prices have increased for 44 days in a row now, with the average price jumping almost 30 percent a gallon since the end of April.
Here's my question to you: How will your life change if oil reaches $250 a barrel?
Interested to know which ones made it on air?
Bob writes:
I wish it would go to $2,500 a barrel! It's going to take something that drastic to get people to actually participate in changing their habits, and really put an effort into alternative energies - not to mention alternative lifestyles.
Joe from Virginia writes:
Probably not much since I try to drive as little as possible now and began seriously conserving and combining trips after the last bout of $4/gallon fuel. Also, we have replaced our heat pump with the highest efficiency available. We drive a VW diesel that gets 50 mpg - don't know what more I can do.
Ed from Pennsylvania writes:
Jack, I think we'll be screwed. That would mean $8 gas. Although, it would be amusing to watch everyone who owns a gas guzzler buying $125 worth of gas twice a week. It's a fitting punishment.
Casey writes:
It won't. My job includes driving, and that won't stop. I already don't drive more than is necessary, so all that will happen is I'll have less money to pay toward my credit card debt. Life goes on.
Peterson writes:
Well, I bought oil stocks when the bottom dropped out and it was in the $30/barrel range. So, I am hoping profits from that offset the cost. Other than that, it may make sense to look at alternatives again. I have invested in solar stocks as well. Everything is an opportunity - this is one as well.
Steve writes:
Our business will close its doors. The cost of buying supplies will go up and our customers won't be able to afford to buy anything other than the bare necessities. Fuel costs affect everyone and everything, not just driving.
Greg from Atlanta writes:
Ramen noodles, basic cable and an intense search for a Sugar Mama, Jack.