FROM CNN's Jack Cafferty:
Some are calling it the "Cairo effect"... they're referring to indications that President Obama's speech last week has already resonated with the Muslim world. In it, the president made clear that countries that don't back extremists are more likely to win the favor of the West - and avoid isolation.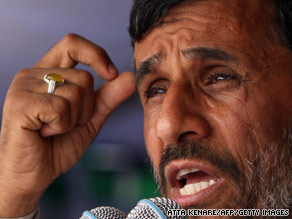 Iranian President Mahmoud Ahmadinejad is running for a second term against three challengers in a June 12 election.
The first test came last weekend during Lebanon's elections, where an American-backed coalition defeated the Hezbollah-backed group. Most analysts had predicted that the Hezbollah-led coalition would win...
But The New York Times reports that while there are many domestic reasons why the pro-west coalition won, many also point to Mr. Obama's campaign of outreach to the Muslim world: "For the first time in a long time, being aligned with the United States did not lead to defeat in the Middle East."
Analysts highlight steps the new administration has already taken to ease tensions with Muslims. For example, they are proposing talks with Iran and Syria - rather than confrontation - which makes it harder for Hezbollah and other extremists to demonize the U.S.
The next test comes on Friday, when Iran's hardline president Mahmoud Ahmadinejad is up for re-election against a moderate challenger. Although Ahmadinejad is unpopular at home for many reasons, including the economy, some believe that President Obama's speech could help lead to his defeat.
The last time moderates had a real chance of winning in Iran was in 2002, right after former President Bush included Iran in the so-called axis of evil - and we all know how that turned out.
Here's my question to you: Can Pres. Obama's speech to the Muslim world help defeat Iranian Pres. Mahmoud Ahmadinejad in tomorrow's election?
Interested to know which ones made it on air?
J.W. from Atlanta writes:
I believe this Mahmoud dude's goose is smoked already and an Obama speech only spins it a little. The Iranians seem to be plugged in a bit better than what this creep represents, and with the population of Iran both young and somewhat aware, I think Iran is on the cusp of coming to its collective senses.
Henri writes:
Jack, The speech may help. After all, it was a rehashing of ideas that Arabs and Muslims LOVE so much; they do not seem to want much substance. That may explain why the more Muslim a society is, the more it stagnates. No new ideas enter the Muslim world. What will defeat Iran's crazy president is the realization by Iranians that they are getting poorer and poorer with every year that crazy man is in charge. Pres. Obama's speech will do little.
Ben from Iowa writes:
It can't hurt, but we in the U.S. and the media must be careful. Islamic countries resent any notion that the U.S. has interfered in their domestic politics, especially in Iran with the history of the Shah. If Ahmadinejad is unseated we can breathe easier, but must still deal with the true power in Iran, the Ayatollahs.
Mohammad writes:
As an Iranian student studying in U.S., when I cast my vote tomorrow, I certainly will have Obama's speech in mind about the possibility of having better relations between the two countries. However, I think the most prominent reason for many Iranians to be against Ahmadinejad is his mismanagement of the economy. Like in the U.S., it'll be all about economy.
Don from West Palm Beach, Florida writes:
It can't hurt. Look at what happened in the recent elections in Lebanon. You cannot hope to change attitudes unless you talk with people and try to find common ground. I think President Obama has shown great courage in reaching out to nations that have not been friendly to us in recent decades.
Melissa writes:
It's a start, nothing more. The rest is up to the Iranian public.