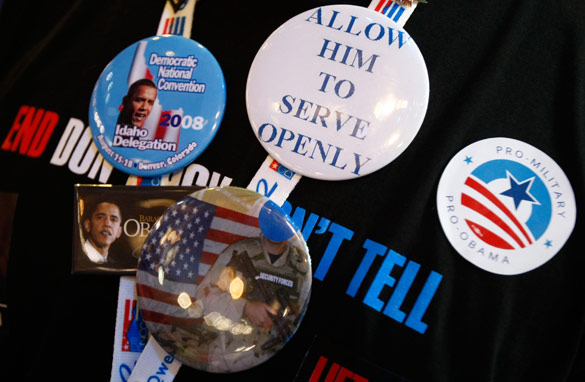 (PHOTO CREDIT: GETTY IMAGES)
FROM CNN's Jack Cafferty:
When it comes to gays in the military, the Supreme Court has refused to hear a legal challenge to the 'Don't ask, don't tell' policy.
The law - enacted under President Clinton in 1993 - forbids those serving in the military from openly saying they are gay or lesbian... it also prevents the government from asking people about their sexual orientation. It's estimated that more than 12,000 members of the military have been discharged under this policy - including more than 200 since President Obama took office.
While campaigning, then-Senator Obama indicated that he supports eventually repealing the law; but he hasn't yet taken any steps to do so. A group of more than 1,000 retired military officers - including 47 four-star generals - recently warned the president that overturning the policy could cause problems recruiting and retaining troops.
But Liberal activists who believe gays should be able to serve openly are frustrated by the Supreme Court's decision... and the Obama administration's lack of action.Yet it seems like Democrats and the White House don't want to take on an issue that could divide the public when they need support for other issues - like health care.
Meanwhile a new Gallup poll suggests there might be more support out there on this issue than the president realizes. 69 percent of Americans now favor allowing openly gay members to serve in the military - that's up six-points from five years ago. Also –and this is interesting - the biggest increase in support has come from conservatives and weekly churchgoers.
Here's my question to you: Should the Supreme Court decide the fate of 'Don't ask, Don't tell'?
Interested to know which ones made it on air?
P. writes:
Trust me, as someone who recently ended his career in the U.S. Army and is gay, I can say "Don't ask, don't tell" is a blessing! The Army is such an incredibly segregated and racist institution and most civilians don't realize it. Allowing gays to be open will just make it worse. It's for their protection and people don't see that. The military likes to cover up all their faults... including hate crimes.
Kathy writes:
Why must we go to the Supreme Court and ask them to force us to do what we know is right? People said African-Americans in the military would destroy morale. They said women in combat zones would destroy morale. Neither did. Now some people continue to say that gays in the military will destroy morale. Let's just get it right on our own this time.
Chris writes:
Jack, There are intelligent, thoughtful people on the other side of this question. Many people feel that issues involving gay, lesbian, and transgender people are being forced on us and it's gone way too far. Calmly step back and think about the soldiers for just one second. If the military wanted this, it would be done this morning. Obviously there are enough people who believe the soldiers on the ground don't want this anytime soon.
Zac from Atlanta writes:
Jack, I can say as a gay man that I'm sure that Scalia and Thomas would love nothing more than to be able to send me and others like me to the front lines. I'm amazed they passed up the opportunity.
Ed writes:
Recently, a West Point graduate and Iraq war veteran who speaks Arabic was discharged from the Army for being gay. Jon Stewart of The Daily Show nailed it when he said, "We allow our interrogators to torture prisoners, but we banish the soldier who can tell us what that prisoner is saying." It truly is insane.