FROM CNN's Jack Cafferty:
Facing a staggering $24 billion dollar budget deficit, California is considering making cuts just about everywhere - including social programs for the poor, elderly and frail. Governor Arnold Schwarzenegger's proposals could: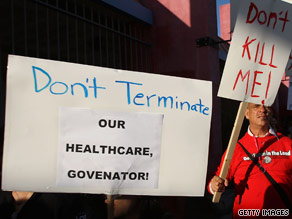 Demonstrators call on Schwarzenegger to reverse $170 million in proposed budget cuts in HIV/AIDS services as he seeks to close a $23 billion deficit in California's budget.
– End the welfare-to-work program for mothers and their children - affecting more than 500,000 families.
– Eliminate health insurance for 1 million children from low-income families
– Greatly reduce services for Alzheimer's patients and others receiving in-home care.
Schwarzenegger acknowledges these proposals would be painful, saying: "It's an awful feeling, but we have no choice." The governor has said he won't raise taxes again, which leaves lawmakers with few other alternatives.
Critics say they are in shock at the idea of getting rid of the state's welfare program and the results could be devastating - forcing thousands of families into homelessness.
But supporters say that states still have many other assistance programs and few people would be left without any help... For example, federally mandated programs like food stamps, low-income housing and Medicaid would continue.
California isn't the only state cutting back in these difficult economic times. Arizona reportedly cut funding for a rehab program for almost 5,000 children with chronic or disabling conditions. Georgia has cut back services for the elderly; and Nevada will make it harder for low income families to apply for cash assistance and health insurance.
Here's my question to you: Should states reduce or eliminate welfare benefits as a way of balancing their budgets?
Interested to know which ones made it on air?
Charlette writes:
You have got to be kidding. The state of California has the wealthiest of all Americans living in it and they are going to make cuts to low income families. Governor, you should be ashamed of yourself! But hey, you were in Hollywood. Ever watch 'Trading Places'? Maybe you should try it!
Ron from Key West, Florida writes:
Reducing welfare, disability and a host of other benefits could save a lot of money if those who unfairly abuse these programs were cut off. I've met far too many people on assistance programs who live better than I do, and are able-bodied adults who can take care of themselves. And many of them do. They work full time jobs, are paid off the books and ice the cake with the government benefits.
Giorgio from Italy writes:
States should increase welfare benefits! There are many poor and lower middle class people who can barely survive on current welfare benefits. Please, there are many unethical events that led to the current, ongoing economic crisis in the United States, but welfare benefits and other social entitlements had nothing to do with it!
Susan from Tuscaloosa, Alabama writes:
We should eliminate welfare benefits to the defense contractors, the worthless politicians, the Wall Street thieves, the incompetent corporate CEOs, and other rip-off artists who stay fat and sassy and pay little or nothing for the privilege of getting obscenely rich in America, but as usual the poorest and most vulnerable will suffer.
Peter writes:
This is the best course to financial stability. California taking $100 from the 5 million below the poverty line is a lot easier and more reliable than trying to take $5 million from the top 100 earners in the state, because then those top 100 earners won't live in the state anymore. Taxing the rich is fun to say, but eventually you have to get down to business and make ends meet.
Tom from Fort Lauderdale, Florida writes:
Jack, If we eliminate welfare, what would AIG, Citibank, Bank of America, General Motors and Chrysler do?