FROM CNN's Jack Cafferty:
Facing a staggering $24 billion dollar budget deficit, California is considering making cuts just about everywhere - including social programs for the poor, elderly and frail. Governor Arnold Schwarzenegger's proposals could: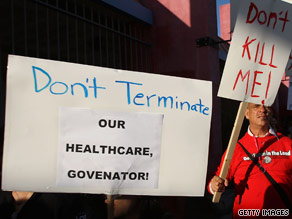 Demonstrators call on Schwarzenegger to reverse $170 million in proposed budget cuts in HIV/AIDS services as he seeks to close a $23 billion deficit in California's budget.
– End the welfare-to-work program for mothers and their children - affecting more than 500,000 families.
– Eliminate health insurance for 1 million children from low-income families
– Greatly reduce services for Alzheimer's patients and others receiving in-home care.
Schwarzenegger acknowledges these proposals would be painful, saying: "It's an awful feeling, but we have no choice." The governor has said he won't raise taxes again, which leaves lawmakers with few other alternatives.
Critics say they are in shock at the idea of getting rid of the state's welfare program and the results could be devastating - forcing thousands of families into homelessness.
But supporters say that states still have many other assistance programs and few people would be left without any help... For example, federally mandated programs like food stamps, low-income housing and Medicaid would continue.
California isn't the only state cutting back in these difficult economic times. Arizona reportedly cut funding for a rehab program for almost 5,000 children with chronic or disabling conditions. Georgia has cut back services for the elderly; and Nevada will make it harder for low income families to apply for cash assistance and health insurance.
Here's my question to you: Should states reduce or eliminate welfare benefits as a way of balancing their budgets?
Interested to know which ones made it on air?