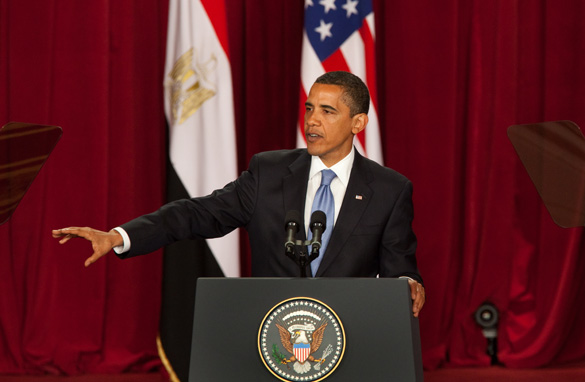 Pres. Obama makes his key Middle East speech at Cairo University in Egypt. In his speech, Obama called for a "new beginning between the United States and Muslims," declaring that "this cycle of suspicion and discord must end." (PHOTO CREDIT: GETTY IMAGES)
FROM CNN's Jack Cafferty:
In reaching out to the world's one and a half billion Muslims with today's historic speech, it's unclear if President Obama is also pushing away America's long-time ally Israel.
Speaking in Cairo - the president recognized the U.S.'s unbreakable bond with the Jewish state and the horror of the Holocaust, but also talked about the suffering of the Palestinian people. He described their situation as intolerable and stressed the need for a two-state solution.
President Obama called on Palestinians to abandon violence - pointing to America's own civil rights history and saying it was a "peaceful and determined insistence" that brought about equal rights.
And, he once again called on Israel to stop building settlements; and to allow Palestinians to live and work and develop their society. Israeli Prime Minister Benjamin Netanyahu has already rejected President Obama's call for a settlement freeze.
But experts suggest that this demand from Mr. Obama will make Arab leaders listen. They say although the U.S. has been opposed to Israeli settlements for decades, past American presidents have allowed Israel to keep building them. And some believe that if "no" really means "no" this time around, it may be easier to form a regional coalition against Iran.
Speaking of Iran - Mr. Obama repeated his belief today that the Islamic Republic has the right to develop nuclear power for peaceful purposes - another statement that is probably not sitting too well with the Israelis.
Finally, for the first time in a long time, a visit to the Middle East by a sitting U.S. president did not include a stop in Israel.
Here's my question to you: Is Pres. Obama reaching out to Muslims at the expense of America's relationship with Israel?
Interested to know which ones made it on air?