FROM CNN's Jack Cafferty:
As President Obama gets ready to address the Muslim world in Cairo tomorrow, one Republican is accusing him of being too apologetic about America's past mistakes. Mitt Romney refers to it as a "tour of apology," and says that of course the U.S. makes mistakes, but that it's inappropriate to "go around the world apologizing."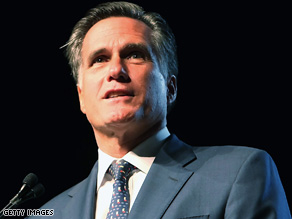 The former - and perhaps future - Republican presidential candidate says there's nothing wrong with showing our respect for the Muslim world. But he thinks President Obama should spend more time talking about the sacrifices the U.S. has made for other countries - like during World War II.
Romney points to an interview that the president gave on Arabic TV where he said the U.S. had dictated to the world; and he says a British newspaper declared Obama the president who's the most critical of his own country while on foreign soil.
The former Massachusetts Governor says this would be a "most unfortunate distinction at any time," but especially now - when this should be a time for "strength and confidence."
It's worth pointing out that Romney's own foreign policy experience is negligible. But he has no shortage of opinions when it comes to the Middle East, North Korea and missile defense.
He insists he's not running for 2012 now - but rather working to get Republicans elected. Might be easier to run for president.
Here's my question to you: Is Mitt Romney right when he says Pres. Obama is too apologetic about the U.S. overseas?
Interested to know which ones made it on air?
Randy from Ontario writes:
After the disastrous reign of George W. Bush and his frightening cohorts, a little humility from the president is a refreshing change that the rest of the world appreciates. Mr. Romney's remarks only serve to reinforce the sense of relief that the Republicans and their condescending, self-righteous attitude are no longer speaking for America.
Jim writes:
Jack, Mitt Romney never had to please or apologize. His travels through life were made possible by a wealthy family and those connections. By contrast, Obama had to overcome numerous obstacles and gain traction through his own efforts. From his "gated life," Romney accuses Obama of apologizing for America. It is Romney who should be apologizing for his "silver spoon" understanding of America.
Allen writes:
Obama needs to shut his mouth. It's scary to think this inexperienced guy is representing America. Please help us all to get through these next 4 years.
Mark from Voorhees, New Jersey writes:
Everyone has this issue wrong: We, and Obama, should not apologize for the U.S., but for having had Bush and his cabal running this country for eight years. The Iraqis paid a heavy price for having Saddam as their leader. We are paying the price now, and perhaps forever, for Bush.
Steve from Kunkletown, Pennsylvania writes:
We screwed up, plain and simple. If Romney wants to call Obama's diplomatic damage control "apologetic" then it just proves that he enjoys watching America's reputation spiral down the drain. Forget him.
I. from Detroit writes:
Please tell Mitt "Plastic Man" Romney to talk about what he knows. Modesty and international respect are clearly not his strong points, and he should neither dabble in nor babble about such matters. Ask the pirates if President Obama has been "apologetic".