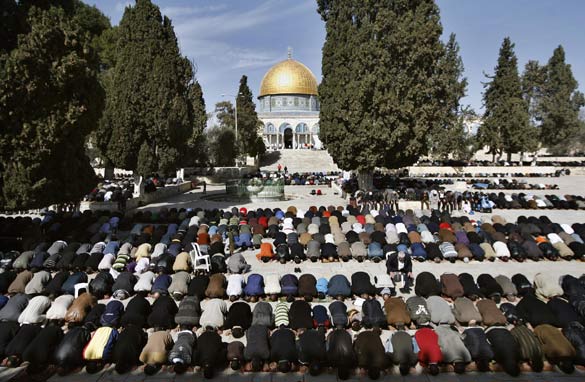 (PHOTO CREDIT: AHMAD GHARABLI/AFP/Getty Images)
FROM CNN's Jack Cafferty:
While President Obama tries to boost the image of the U.S. in the Muslim world - it turns out most Americans don't look too highly on Muslim countries.
A new CNN/Opinion Research Corporation poll shows only 21 percent of those surveyed have a favorable opinion of Muslim countries. 46 percent have an unfavorable view. Compare that to 2002, before the start of the Iraq war, when 24 percent had a favorable view; and 41 percent had a negative opinion. About a third of those polled had a neutral option then... and now.
This poll also shows that most Americans - 78 percent - say people in the Muslim world have an unfavorable opinion of the U.S. But people are split on whether such a negative view by Muslims even matters.
At a town hall meeting in Turkey this year, President Obama declared that "the United States is not, and will never be, at war with Islam." This poll found a majority of Americans agree that the U.S. is not at war with the Muslim world; but six out of 10 Americans think the Muslim world considers itself at war with us.
These poll numbers seem to suggest the feeling of distrust is mutual... and it looks like President Obama certainly has his work cut out for him when it comes to smoothing over tensions with the Muslim world.
Here's my question to you: Have your feelings about Muslim countries changed in the last several years?
Interested to know which ones made it on air?
Jasmine from Germany writes:
No, my feelings haven't changed. I may not always agree with some countries' governments and policies, but I respect them. Many of the countries have brilliant histories of scientific and technological advancements. Jack, I wish many Christians would research the history of Christianity and take a good hard look at some of the ugliness Christianity has put humans through "in the name of God" throughout history.
James writes:
Every time you turn on the news, you see Muslims burning American flags and going absolutely crazy when someone dares to say something they dislike. What do you think our view is going to be?
Bob from Kansas writes:
I never thought much about the Muslim countries and their problems before 9/11. Now I think that the U.S. sure gives them a lot of reasons to hate and mistrust us. If we spent half the money on their people's welfare as we spend on destroying their countries and their citizens, I'd feel a lot safer - at least until they attack us in spite of our good will. By ignoring "the least of these," we sure create a lot of enemies all across the world.
Kyle from Indianapolis, Indiana writes:
Yes, my feelings about Muslim countries have changed in the last several years, because we are over there fighting for their freedom and they don't want to help us. It's time for the Muslim countries to get their act together and figure out that the U.S. isn't against them, but we are trying to help them.
Rick from Ohio writes:
Jack, I have visited the Middle East twice, and I have found most of the people I encountered to be charming, friendly, and very inquisitive about our way of life. These are people with kids and grandkids and dreams for themselves and their families. I am convinced that most of the one billion or so Muslims are just people; our differences are more cultural than political. They have their extreme conservative right, so do we. Theirs is just more dangerous than ours, right?