FROM CNN's Jack Cafferty:
Our education system is in serious trouble; and it's unclear how American students can continue to compete globally. Consider this: out of 30 industrialized countries in a 2006 study, American 15-year-olds ranked 25th in math. Many of our big city high schools have a graduation rate below 50 percent.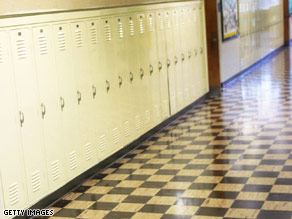 This may be why most states now seem to agree that national education standards are needed, instead of the patchwork system we currently have. 46 states, along with the District of Columbia, have agreed to develop a set of standards for what students should learn every year from kindergarten through high school.
The group is expected to come up with the standards by July - and then each state will have to decide whether to sign on. The coalition says the benchmarks would be internationally competitive. And they better be...
Critics of the current system - where each state sets its own standards - point to places where students score well on state tests, but not on national exams. For example - in Mississippi, 90 percent of fourth graders passed the state reading exam in 2007, but only 51 percent had basic or partial mastery on a national exam.
Many Republicans oppose national standards, saying that Washington shouldn't control schools; but there seems to be more support this time around since the schools and states are leading the charge. Plus the results of the old way of doing it are nothing short of dismal.
Here's my question to you: Is it too late for American schools to become competitive?
Interested to know which ones made it on air?
Sandra from Arkansas writes:
No, not if we realize that we have stopped prioritizing education. We prioritize sports programs, computer games, television, movies, etc. and not education… Just as GM sold Hummer to China, we are selling our future to the countries and parents who are educating their children. It is not too late but we have to have a readjustment of priorities and motivations.
Richard writes:
Is it too late? It was too late 20 years ago when we first saw evidence of our failing schools. But if you remember, we had this new social rule: Political correctness. As bad as it was, heaven-forbid you make someone feel bad about it. Well, here we are. 'Dumb and Dumber' are the parents of today's students and those kids are more confused than ever. Good luck with that one.
Don writes:
We can have all the standards we want, but if we continue with social promotions, we will still have functioning third graders reaching for the diplomas.
Dave from Pennsylvania writes:
Jack, The dismal statistics you reported are far more concerning to me than the Dow Jones, quarterly reports, or employment statistics. They are signs of bad things to come for the next several generations, not just the immediate economic future. Even though we can't measure our returns in hard numbers, education of future generations is where we need to invest our resources today.
Ken from North Carolina writes:
It's not too late if you can make parents and teachers take an active part in the education of their children. Parents want a "babysitter" in the schools and teachers want tenure" for longevity and retirement. No one is concerned about anything else as long as we can import Chinese, Japanese and Indians to do the work that places such a heavy burden on the brains of our kids - and takes so much time from their texting.