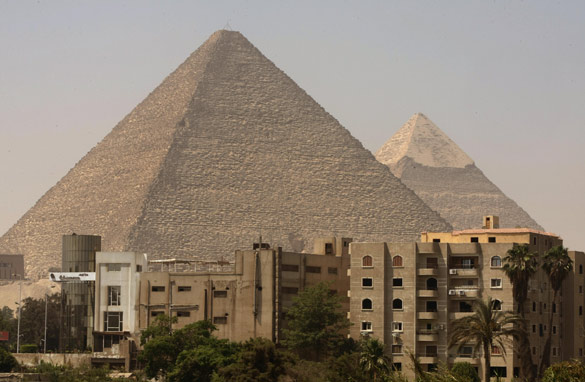 Pyramids on the outskirts of Cairo stand behind apartment buildings as security is heightened in city in anticipation of Pres. Obama's visit on Thursday. (PHOTO CREDIT: CRIS BOURONCLE/AFP/Getty Images)
FROM CNN's Jack Cafferty:
When President Obama speaks at Cairo University in Egypt on Thursday, he'll have a huge audience and the undivided attention of many of the world's 1.5 billion Muslims.
The White House hopes the long-promised speech and trip to Saudi Arabia and Egypt can help boost the image of the U.S. in the Muslim world. Under the Bush administration, many Muslims grew to hate America; with the invasions of Iraq and Afghanistan, the creation of the prison camp at Guantanamo Bay and the abuse at Abu Ghraib.
Our president has a chance to bring change. But the experts say Muslims want more than just words. The United States will have to follow up on the president's speech with concrete policy changes.
It seems that Mr. Obama is off to a good start. Soon after inauguration - he banned harsh interrogation techniques, promised to close Gitmo within a year, and gave his first formal interview to an Arabic-language network.
All this just might be working: A new Gallup poll shows that while approval ratings for U.S. leadership in 11 Muslim countries remains generally low, the ratings are up by double digits in eight of these countries, including Egypt.
Meanwhile, President Obama is indicating that he'll be more willing to criticize Israel than other administrations have - and is repeating his call for a freeze on settlements. And Israel is not on the president's itinerary - a pretty significant statement.
Here's my question to you: How can President Obama make the most of his speech to the Muslim world in Cairo, Egypt?
Interested to know which ones made it on air?
Don writes:
Having lived in Syria from age 2 until 18, I can say that what will impress Arabs the most is an assurance from Obama for an evenhanded foreign policy - one that treats Arab countries and Israel equally. One recent example is his pressing Israel to stop building settlements on the West Bank. It is wonderful to see Obama not stopping off in Israel on this Mideast trip.
Matt from Libertyville, Illinois writes:
Jack, Pres. Obama needs to let the Muslim world know that America is not anti-Islam, but anti-Islamic extremists. Muslims get a bad rap for the few extremists who make all Muslims look bad, and Obama needs to let the world know we support Islam's fight against the radicals in their religion who are making our life hell.
Don from Massachusetts writes:
I really don't care if the president throws a shoe at the audience. We are worried about the Muslim world liking us or not when they intentionally murder innocent people and children with suicide bombs? On top of that, they do it in the name of God (Allah). Why do the real God-loving Muslims who respect life just sit idly by and let this happen?
Kevin from Canton, Ohio writes:
Pres. Obama could make the most of his speech by promising to completely pull our troops out of the Middle East, and declare that our wars with Iraq, Afghanistan, and aggressive policies in Pakistan are ending immediately. He could declare that we're going to extend an equal hand of friendship to all nations, and not show favoritism.
Jenny from Nanuet, New York writes:
Just going there to give a speech is a great gesture. It's yet another sign that Obama sees Muslims as human beings and not as targets. Showing them his outstretched hand puts the onus on them to accept it.
Tom from Tampa, Florida writes:
He should bring a cardboard cut-out of George Bush with him and throw his shoe at it, and then invite others to follow suit.