FROM CNN's Jack Cafferty:
Dick Cheney says he doesn't think Saddam Hussein was involved in the 9/11 attacks. More than six years after the Bush administration took us to war in Iraq - after 4,310 Americans died there, and with U.S. troops possibly staying in that country for years to come - the former vice president says the Iraqi dictator had nothing to do with the planning or execution of the terror attacks.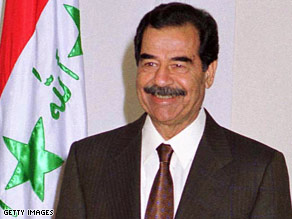 Saddam Hussein is pictured in a file photo from January 2001.
Shortly after 9/11, Cheney was singing a different tune... Then he said it was "pretty well" confirmed that one of the leaders of the attack, Mohammed Atta, had met with a senior Iraqi intelligence official in Prague in 2000.
Nonetheless, Cheney continues to defend the Bush administration's decision to invade Iraq - saying Saddam's previous support for known terrorists was a real threat after 9/11. And he insists there was an ongoing relationship that went back years between al Qaeda and Iraq - saying that information came primarily from CIA Director George Tenet.
The former vice president is now explaining away the early uncertainty of the so-called Iraq-9/11 link by saying that intelligence gathering is "more an art form than a science." However, he failed to mention those Iraqi weapons of mass destruction that never seemed to materialize - another supposed reason for the invasion.
Here's my question to you: Six years after the invasion of Iraq, how does it make you feel when Dick Cheney says there was no link between Saddam Hussein and 9/11?
Interested to know which ones made it on air?
Sylvain writes:
Makes a pretty good case for war crimes, doesn't it? Why did we kill so many Iraqi civilians again? Oh yeah, weapons of mass destruction. Cheney lied about that too. The more Darth Vader speaks, the more he incriminates himself.
Darren from Dallas writes:
The American people are so much biomass to Mr. Cheney and his ilk, only raw ingredients in his money and power-making machinery. He cares for the lives and sorrow and pain of the fallen American soldiers and Iraqi civilians about as much as he cares about the cow when he cuts into a steak.
Kris writes:
How's it make me feel? Disgusted, ashamed, angry, humiliated, depressed, and most of all stupid. Because I bought everything that Bush, Cheney and their cronies sold us about Iraq and I supported the invasion. Never again. I used to be a Republican. Now I am disgusted. Hundreds of billions of dollars we've poured into a freaking pile of sand 6,000 miles away, not to mention the lives that have been lost and all for what?
Steve from Florida writes:
Nauseous. There were a lot of us who wondered from Day 1 why no one ever put the Neocons' feet to the fire. There was plenty of dissent at the time, all ignored or written off as un-American. These men have an awful lot of blood on their hands to be so lackadaisical about the whole thing. Same scenario with the economy. Nauseating is being kind.
Sean writes:
It makes me sick to my stomach. By the way, where are the WMD that Saddam was supposed to have? Dick Cheney doesn't give a rat's behind about the 4,000+ lives that have been lost since the beginning of the war; he only cares about his own image.
Steve from Killeen, Texas writes:
It disgusts me that I was sent to fight in Iraq, fight in a war based on lies, and four of my friends are dead because of those lies.