FROM CNN's Jack Cafferty:
Here's something that probably keeps the leadership of the Republican Party up at night: A new Gallup poll shows 89 percent of the party's rank-and-file members are white.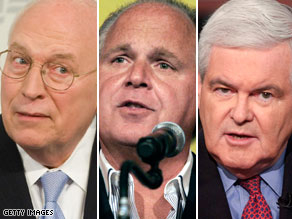 Cafferty: GOP will not gain favorable support if Cheney, Limbaugh, and Gingrich continue to spew "negative, hateful rhetoric."
This leaves only 11 percent of Republicans who are Hispanics, African-Americans or members of other races. These numbers are staggering and hardly in keeping with the radically changing face of the U.S.
That's not all - by more than two-to-one, whites who call themselves Republicans claim a conservative ideology, and about half of them say they're strongly religious.
Compare that to Democrats - whose party is 64% white and 36 percent non-white. By a ratio of more than four-to-one, white Democrats call themselves moderate or liberal, and only 20 percent of them say they're highly religious.
Independents land somewhere between the two camps - with 27 percent non-whites.
These numbers pretty much say it all about the GOP's troubles; and leave little question why Democrats are in control of the White House and both houses of Congress.
The big question: Will the support of white, conservative, religious Americans be enough of a base for Republicans to start winning elections again? Probably not. The alternative is for Republicans to find a way to broaden their appeal among non-whites and whites who are more moderate.
And here's a hint: The way to accomplish that is probably not with the likes of Dick Cheney, Rush Limbaugh and Newt Gingrich slinging around negative and hateful rhetoric.
Here's my question to you: Why does the Republican Party have such a narrow appeal?
Interested to know which ones made it on air?