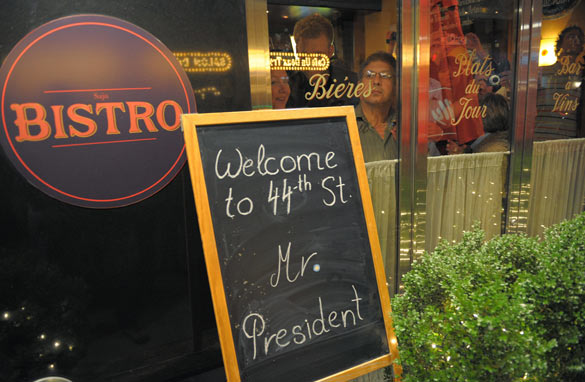 Patrons at a restaurant across from the Belasco Theater peer out of the windows at the theater where the President and First Lady attended a show Saturday in Manhattan. (PHOTO CREDIT: MANDEL NGAN/AFP/Getty Images)
FROM CNN's Jack Cafferty:
President Obama made good on a campaign promise Saturday night... by taking his wife on a date to New York City.
The president says he promised his wife he would "take her to a Broadway show after it was all finished."
Mr. Obama and the First Lady flew from Washington to New York on a Gulfstream jet, then took a helicopter from the Marine One fleet from JFK airport into Manhattan. The first couple dined in the Village and then headed to Times Square, where they saw "Joe Turner's Come and Gone" - a show about a man coming to terms with the history of slavery.
New Yorkers seemed to love it all, with crowds eight-deep in places, but critics are accusing the president of insensitivity. The Republican National Committee says as the president prepared to "wing into Manhattan's theater district," GM prepared to file bankruptcy and families across America continue to struggle to pay their bills. They added that if President Obama wanted to go to the theater... why wasn't the presidential box at the Kennedy Center good enough?
The president paid for dinner and the show tickets, but the rest of the bill will land on the taxpayers; and The White House hasn't said yet how much that is. They cited fuel efficiency - saying instead of taking the larger Air Force One, the president and first lady took a smaller plane. There were two other planes carrying media and staff.
Here's my question to you: Should taxpayers pick up the bill for the Obamas' date night in New York?
Interested to know which ones made it on air?
David writes:
This is the biggest load of garbage I've ever seen. Talk about straining at a gnat and swallowing a camel. The president can't just take off in his car, you know, it's called safety. Cafferty usually gets it right, but this is just so damn stupid I think he's losing it.
Isabella writes:
No. Taxpayers should not pay the bill for the president's transportation to and from date night, just like they shouldn't pay when he flies off to a fundraiser. Surprisingly, this does show a great deal of insensitivity on Obama's part. Lots of people would love to treat their spouses to date night, but with the economy the way it is, most are just focused on keeping a roof over their heads and food on the table.
Ethan writes:
After the U.S. taxpayers were forced to foot the bill for an entire war that now seems like a completely unnecessary waste of money, Obama's evening trip to New York really does not seem that bad to me.
Ron from West Bend, Wisconsin writes:
Should the taxpayers pay for his date night? Hell no, not now. If he gets us out of this financial mess, then maybe. But not now.
John writes:
This is a loaded question. Did you address taxpayer money that goes to presidential vacations? Bush set a record for vacationing on the public dime. Isn't that also insensitive?
Aggie writes:
Dine on our dime? I don't think so! Just another photo-op for the First Family. They don't think twice about spending the taxpayer's money!
Larry writes:
Did we tip too?
Kelby from Houston, Texas writes:
It's a good thing you asked this question. I was going to start thinking about something important.