FROM CNN's Jack Cafferty:
Republican senators are voicing skepticism when it comes to President Obama's Supreme Court nominee... although they are, thankfully, staying away from the hateful language of Rush Limbaugh and Newt Gingrich.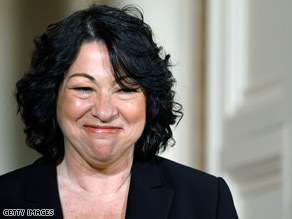 If approved, Sonia Sotomayor will be the first Hispanic and the thrid woman ever to serve on the Supreme Court.
Republicans point to Sonia Sotomayor's strong legal background... yet say they're concerned about speeches she's made about a judge's decisions being affected by life experiences. The one comment that's getting the most attention is when Sotomayor said in 2001 that "a wise Latina woman with the richness of her experiences would more often than not reach a better conclusion than a white male."
The top Republican on the Senate Judiciary Committee, Jeff Sessions, says: "It goes against the heart of the great American heritage of an independent judge." And Senator Lindsey Graham calls the remarks troubling and inappropriate, and says Sotomayor should apologize.
Well - it seems the White House has gotten the message that the judge's remarks could be a pretty big deal. The president himself came out to say he's sure Sotomayor would restate that comment - without indicating how he knows that. Mr. Obama says if you look at the judge's full comments, she was saying that her life experiences will help her understand peoples' struggles and will make her a good judge.
Sotomayor appears headed for confirmation, but the White House wants more than a slim majority; they're hoping for a smooth confirmation and a strong win - something that may be complicated by the judge's remarks.
Here's my question to you: Will Sonia Sotomayor's comment about "a Latina woman vs. a white man" be enough to derail her Supreme Court nomination?
Interested to know which ones made it on air?
Diana writes:
Of course Republican senators are "voicing" concerns. They've got the right-wing hate machine clawing at their backs and are facing extinction if they vote against the nomination of this absolutely qualified and distinguished Latina. Ms. Sotomayor has nothing to apologize for, especially to a group of ethically challenged professional gasbags in the U.S. Senate.
Ben from Maryland writes:
Absolutely not. There was nothing in the comment that should be interpreted as racist. For 233 years, the Court was led by rich white men. They made some very poor decisions (remember Dred Scott?). Many of their decisions favored the rich and privileged over the poor and middle class. So when someone comes out of the projects and becomes a judge, he or she, Latin or white or black or Asian, will see both sides better than a privileged white guy.
Ken writes:
Once said, you can't take it back. That is a racist/sexist comment, and if the sex and genders were flip-flopped, the man would be crucified. Of course, she's what Obama wants and Obama gets what he wants when he wants it now.
Joan writes:
I suggest everyone take a few minutes and read the entire speech/lecture that Judge Sotomayor presented at Berkley - I did. I missed the "controversial" comment the first time through because it made sense when taken in context. Everyone makes decisions based on their backgrounds, experiences, moral compass and the laws of the land. Don't see what the big deal is!
Joe writes:
If she isn't confirmed because of her comment about a Latina woman having more life experience than a white male, then that would be a very sad day for the U.S. I'm a white male and there are a helluva lot of stupid white males whose only qualification for the bench was being in the right frat house and playing at the right golf courses. Look at what was in the Oval Office for eight years.
Greg writes:
Maybe the Supreme Court should be filled with candidates straight out of law school. That would cut down on the life experience drawback.