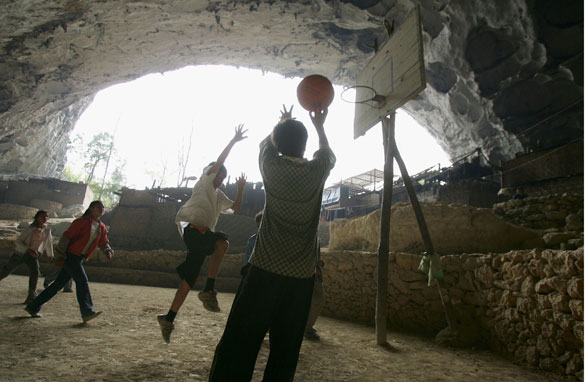 (PHOTO CREDIT: CANCAN CHU/GETTY IMAGES)
FROM CNN's Jack Cafferty:
The American Dream may be slipping away. Examples are everywhere. One comes from CNNMoney.com, which reports how the life of autoworkers is changing.
It used to be that getting a union job on the production line of a big car company would instantly vault someone into the middle class, even if they didn't have much formal education. But those days are gone.
With Chrysler declaring bankruptcy, and General Motors expected to follow soon, the government is demanding these companies bring their labor costs in line with foreign competitors. That means an entry-level autoworker who used to make $28 an hour could soon be making $14 an hour.
Workers' benefits are also taking a hit. Union employees will have to pay a much larger share of their health care expenses. And when they retire, the company won't be paying for their health care anymore. Also, going forward, fewer medical procedures and drugs will be covered.
The story of the American autoworker is just a slice of what's happening across the country. It seems increasingly likely millions of people won't be able to maintain the standard of living they've grown accustomed to, not to mention what's around the corner for the next generation.
A recent poll found more than a third of parents think their children's standard of living will be worse than theirs is now.
Here's my question to you: How will your children's lives be different from yours?
Interested to know which ones made it on air?
Penelope from Cape Cod, Massachusetts writes:
Our children's lives will surely be different. How different and how they respond to that difference depends on how we as adults respond to the need to change priorities. We can continue the angry sense of entitlement that got us here or, we can wake up and realize that we all need to step back and live more simply.
Fred from Livingston, Alabama writes:
My generation and the ones before me worked to turn this country into the best country in the world. This last generation, with its spoiled, selfish attitude of fast money and greed, almost destroyed it. Now, their children will have to work like hell to build it back up again.
Gayle from Columbus, Ohio writes:
This country's economy has always been a series of turning points: industrial to service to information to green. These changes are often painful and forced, but they do and must happen. Therefore, the days of the lifelong job with benefits is gone. The paradigm has shifted and we do not yet know what this will mean for the next generation. I'm hoping my nephews live in an America where everyone can make a living wage and have quality health care, but also where assembly-line workers don't make 3 times what a paramedic or a teacher does.
Duncan writes:
I think our children's lives will be cleaner and better than ours. Sure, they may not make as much money, and they may have to live closer together, without a car, or a big house. But being frugal never constrained us from being great and productive. Our children will live with less, materially, but with all that matters in human relations, I really believe their lives will be better than ours. Our current economic crisis will be seen as a reality check.
Dawson from Minneapolis writes:
I'm a 24 year-old veteran with a kid on the way. The joy I feel for my first child is only outdone by the worry of how well-prepared our society is to deal with children. They are overweight, undereducated, lazy, and now to be born into a broken economy. Sadly enough, the only persons to blame are the parents. If my child ends up a victim of that circumstance, I only have myself to blame. So to answer your question: my child will be fine.