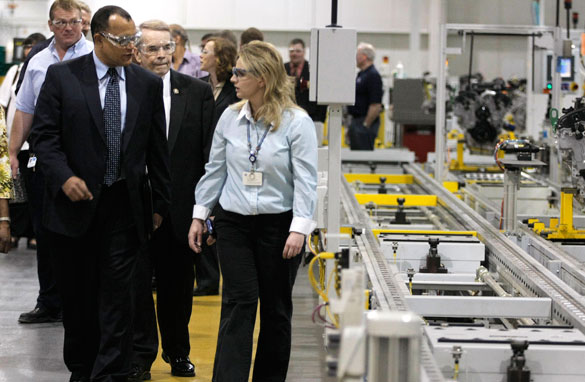 President Obama's 'car czar' Edward Montgomery tours a GM plant in Flint, Mich. in May. (PHOTO CREDIT: BILL PUGLIANO/GETTY IMAGES)
FROM CNN's Jack Cafferty:
When it comes to restructuring the auto industry, the Obama administration is knee-deep.
General Motors is expected to follow in the footsteps of Chrysler, and file for bankruptcy in the coming days. It would be the largest industrial bankruptcy in U.S. history.
G.M. says a committee of bondholders has agreed to a new deal offered by the government. It would erase GM's unsecured debt in exchange for company stock.
If the deal goes through, the government – which has already lent GM close to $20 billion – could have a 72% stake in the company and provide billions more in financing for General Motors to keep operating while being reorganized.
The administration's goal for G.M. is to return to profitability. The White House reportedly wants to play "as minimal" a role and "exit" the investment as soon as they possibly can. But the risks for taxpayers are huge, when you consider U.S. auto sales are near their lowest level in 27 years.
Not everyone is sure the level of the Obama administration's involvement is a good idea.
A poll taken in Michigan by Detroit News/WXYZ shows 42% of those surveyed say the president's role has hurt the domestic automakers, while 39% say he's been helpful.
Here's my question to you: Is the government getting too involved in the auto industry?
Interested to know which ones made it on air?