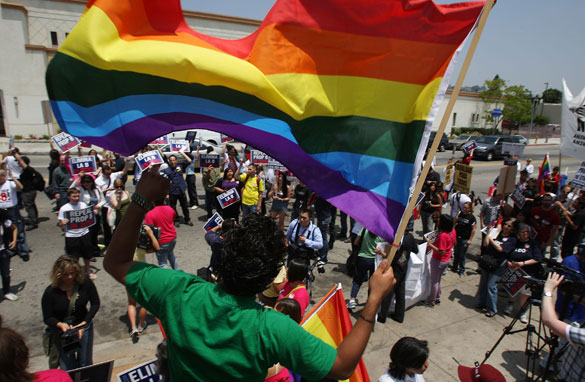 Protestors demonstrate for the repeal of proposition eight Tuesday before the California Supreme Court. (PHOTO CREDIT: DAVID MCNEW/GETTY IMAGES)
FROM CNN's Jack Cafferty:
A majority of Americans continue to oppose gay marriage by a margin of almost 3-to-2.
A new U-S-A Today – Gallup Poll shows 57% of those surveyed are against legalizing same-sex marriages, while 40% are in favor. Although support for gay marriage has increased a lot since the 1990s, it seems to have stalled in the last few years - peaking at 46% in 2007.
Not surprisingly, the poll shows Democrats and younger Americans are more likely to support gay marriage than are Independents, Republicans or those older than 30.
But, what's interesting is that although a majority of Americans are against gay marriage - most people are willing to support gay rights in a lot of other areas. For example, the same poll found: 69% are in favor of gays and lesbians serving openly in the military, 67% say gay domestic partners should have access to health insurance and other employee benefits and 73% say they should have inheritance rights. 67% favor expanded hate-crime laws to cover crimes committed against gays.
Meanwhile, California won't be joining the list of states where gay marriage is legal. The state's Supreme Court has upheld a voter-approved ban on same-sex marriages.
Gay marriages are now legal in Massachusetts, Connecticut, Maine and Iowa, and will be legal in Vermont in September. The District of Columbia has voted to recognize gay marriages performed elsewhere although it doesn't give marriage licenses to gay couples.
Here's my question to you: What will it take for Americans to embrace the idea of gay marriage?
Interested to know which ones made it on air?
Allen writes:
It will take another generation. The members of the religious right of today will not embrace tolerance or equality for gays, but their children will. It is the same process we went through getting equality for women and African Americans. The hard liners never change their minds, but they die and their children grow up in a more tolerant world.
Joy writes:
Personally, I don't care if the rest of America "embraces" same-sex marriage. It's the right thing to do and in 20 years, Americans will look back and wonder what all the fuss was about.
Bill writes:
I'll tell you what, Jack, you stop murdering innocent babies, and maybe I will compromise on gay marriage. Until then, I am protecting the morality that upholds our nation to a higher level. We shouldn't have to sacrifice American values to accommodate a rogue lifestyle. And to suggest that being gay is anything other than a lifestyle choice is plain false.
Emerson from Massachusetts writes:
States shouldn't recognize any marriages, leave that to religious organizations. Instead benefits should depend on partnerships, which should have no limitations.
Sharon writes:
I strongly believe in marriage between a man and a woman so I am the wrong person for this question.
Barbara from North Carolina writes:
This is a simple one, Jack. Don't call it marriage. That's what messes with the religious folks' minds. Call it a civil union, or a practical partnership. Call it anything but marriage.
Yomi writes:
What will it take? When your son or daughter says, "I am gay."