FROM CNN's Jack Cafferty:
Some people who know a lot more about the economy than most of us think things are about to start looking up.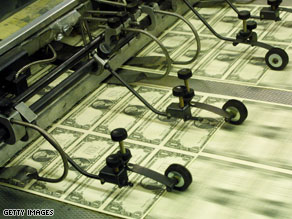 A new report by a group of leading economists says the recession should end in the second half of 2009,although it will be a more moderate recovery than what typically happens after a major downturn.
The report by the "National Association for Business Economics Outlook" also forecasts:
– The nation's gross domestic product will turn positive in the third quarter. It experienced its biggest decline since 1957 during the first half of this year.
– A total of 4.5 million jobs will be lost this year, which would push the unemployment rate to 9.8%. It's expected to drop to 9.3% in 2010
– When it comes to real estate, most of the panelists expect home sales to bottom out by the middle of this year and a majority say housing starts will bottom at the same time.
– As for consumer spending, an overwhelming majority of these economists say "more thrifty behavior is here to stay, at least for the next 5 years"
Speaking of a 5-year outlook, more than half of the economists say they expect the potential growth of the economy to be between 2 and 2.5% in that time.
But enough of what the experts say, millions of ordinary Americans have been hit hard by the recession, and we want to know if things are getting any better from where you sit.
Here's my question to you: Do you see any signs in your day-to-day life that the economy is turning around?
Interested to know which ones made it on air?
Nancy from Illinois writes:
I wish, Jack. My husband lost his job just before Labor Day last summer and hasn't found another. And, we don't have health insurance. So that would be a big NO. But thanks for asking.
Joe from Las Vegas writes:
Hi Jack, Not too much, but I must say since last week in Las Vegas things have been looking a tiny bit better. Traffic this last Thursday was horrible, which I was happy to see, and the streets were busy with foot traffic. The World Series of Poker starts next week with a new $1,000 event as well which may help out.
Gannon from New Orleans:
My 401K has increased by over 30% in the past two months, but nobody is talking about that.
Sharon from Anchorage, Alaska:
No, absolutely nothing yet. Still unemployed. Gas, food and utilities increasing. Going ever deeper in debt and just holding my head above water. Not where I thought I would be close to retirement.
Murray from Costa Mesa, California writes:
I see more new cars on the road.
Pat from Polson, Montana writes:
Not at the present time, I don't. Towns around here are still facing 15% and 16% unemployment. Until something is done about getting people back to work, the economy will stay the same, I'm afraid.
Fil from Florida writes:
Jack, As a realtor for 32+ years and now in Florida, I have been swamped in the past 7 weeks – busier than all of 2008. If that's not an indication of an uplifting economy, or a positive surge, I don't know what is.
Don writes:
My moron of a son-in-law just got a job.