FROM CNN's Jack Cafferty:
The Republicans making the most noise seem to be attracting the fewest followers. According to a CNN opinion research corporation poll 70% of Americans favor former Secretary of State Colin Powell while 30% favor right-wing talk show host Rush Limbaugh. Let's factor in a previous CNN poll which found 37% of Americans favoring former Vice President Dick Cheney, who has had no loss for words lately. After being virtually silent for eight years he can't, or won't stop talking.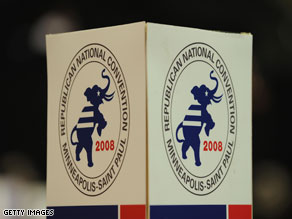 If you narrow it down further and look at the responses of only Republicans, 66% favor Cheney, 64% favor Powell and 62% favor Limbaugh.
At a time when the GOP is trying to rid itself of the legacy of the Bush administration, two former government leaders and a talk show host are the ones making headlines, and two out of three for the wrong reasons.
These three have been butting heads lately. Powell has said Republicans need to stop listening to Limbaugh while Cheney and Limbaugh have proclaimed that Powell is no longer a Republican, which Powell has denied.
Here's my question to you: Who would Republicans be better off listening to Colin Powell, Rush Limbaugh, or Dick Cheney?
Interested to know which ones made it on air?
Cheryl from Houston, Texas writes:
Republicans would be better off listening to Colin Powell. However, America would be better off if Republicans listened to Limbaugh and Cheney. It will keep Republicans out of power.
Janne from North Carolina writes:
Colin Powell definitely is the best representative of the Republican Party. Unlike how the media tries to portray us we are not all ultra conservative nuts. Most of us are pretty middle of the road. I proudly believe he is the new face of the Grand Old Party.
Terry from Chandler, Arizona writes:
At 60 years old I'm a life long Republican who is disgusted with the right wing fanatics who have taken control of the party. If the party does not care to listen to Colin Powell they deserve the losses they will receive.
Chris from Buffalo, New York writes:
Well, General Powell has stated that the Republican Party needs to move to the center. In 2008, the Republicans nominated one the most recognizable centrists in the party, Senator McCain. General Powell endorsed his opponent and Senator McCain got creamed in the election. So, common sense tells me that either Limbaugh or Cheney would have to be the ones to listen to.
Gordon from New Jersey writes:
As a one-time Reagan Democrat, I could see myself voting for a fiscally-conservative, secular Republican like Colin Powell, but not for a Cheney/Palin Christian Conservative. I just don't trust politicians who wear their religion on their sleeve.
Will writes:
So the choice is between a decorated veteran, a radio shock jock, and a draft dodging torturer. Man that's a tough one.