FROM CNN's Jack Cafferty:
North Korea conducted an underground nuclear test near the Chinese border yesterday - an explosion roughly equal to the bomb that was dropped on Hiroshima at the end of World War Two. But this was more than just a test of a nuclear weapon. It's also a test of the Obama administration, and for that matter the rest of the civilized world. Can our new President orchestrate an international response that will successfully pave the way for North Korea to dismantle its nuclear weapons program? Previous administrations have failed at this, and judging by the bellicosity of Kim Jung Il, there's no reason to hold out a lot of hope.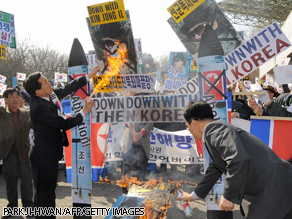 President Obama clearly plans to act more aggressively than his predecessor after North Korea's first nuclear test more than two years ago. Yesterday he called it a blatant violation of international law and vowed to take action.
Russia and China also condemned the nuclear test, as did the U.N. Security Council. But we've been here and done this before when it comes to North Korea. It remains to be seen if they will be on the same page as President Obama when it comes to taking a next step - whatever that is. And there are other countries to consider as well, like Japan and South Korea, who could be in danger of a direct attack. North Korea is a rogue nation that continues to prove it is undeserving of a seat at the table of civilized nations.
Here's my question to you: What can the international community do about North Koreas nuclear weapons program?
Interested to know which ones made it on air?
Marcus from Seattle, Washington writes:
If Obama has the courage, he sends Hillary Clinton to China, has her make a deal with the Chinese government that together they overthrow Kim Jong Il, put in power someone who cares about the North Korean people, and offers substantial aid from the US and China to get North Korea fed in the short term. The maneuver would assist China/US relations for years to come.
Nick writes:
Same thing the international community did when India, Pakistan, and Israel obtained illegal nuclear weapons, nothing. It's irrational to believe that a country can be told not to ascertain nuclear weaponry by a country with nuclear capabilities. We should stop violating international law and begin dismantling our nuclear weapons if we want other countries to do the same.
Jeff in East Lyme, Connecticut writes:
North Korea is not a responsible nation and abuses its people. They have repeatedly proven this to the world. They must and will be disarmed. It should be swift, well planned, multi-national and thorough enough to free the oppressed and abused populace. Donald Rumsfeld should not be consulted.
Jerry in Washington writes:
This is probably going to be unpopular, but take a look at what the Israelis did to Iraq in 1981. Iraq isn't pursuing nuclear weapons anymore, now is it?
Linda in Arizona writes:
I think China is the key. If we can come up with something persuasive and present it to China, they are the ones Little Kim will listen to.
Scott writes:
Kim Jong Il is crazier then Saddam ever was, and he actually has WMDs. If we weren't already fighting two wars, I have a feeling the question would have an easier answer.