FROM CNN's Jack Cafferty:
The headline reads: "Burping of the lambs blows roast off the menu." In one of the more bizarre articles on global warming, the London Times reports that government officials are urging people to give up lamb roasts and save the planet. And it's not just lamb. Government advisers in the U.K. are taking steps to remove other so-called "high carbon" foods from menus as well.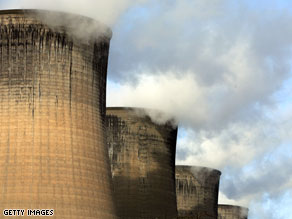 We're used to doctors and nutritionists telling us we need to change our lifestyle and diet to combat obesity, diabetes and heart disease. Well, now climate-change experts are singing the same tune, saying a change in our diets is a crucial step to cutting carbon emissions.
Lamb, alcohol and tomatoes are among the biggest carbon-producing foods, while those that produce fewer carbon emissions include potatoes, seasonal vegetables, pork and chicken.
But what are we really talking about here? Well, according to a study on greenhouse gases that was sponsored by the British government, producing 2.2 pounds of lamb releases the equivalent of 37 pounds of carbon dioxide.
As The Times points out, sheep and cows burp a lot and that produces the greenhouse gas methane.
When it comes to tomatoes, 2.2 pounds generate more than 20 pounds of carbon dioxide. Compare that to just one pound of carbon dioxide produced by 2.2 pounds of potatoes.
Like I said...bizarre.
Here's my question to you: How much are you willing to change your diet to combat global warming?
Interested to know which ones made it on air?