FROM CNN's Jack Cafferty:
It's that time of year again - graduation season. But this year's crop of college graduates is looking for jobs in the worst economy their generation has known. Not exactly the best time to job search when 5.7 million people have been out of work since the recession started.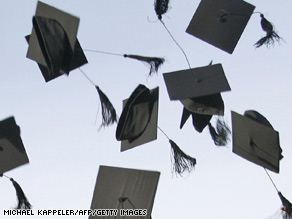 An AP-mtvU poll surveyed more than 2,200 college students on 40 campuses and found some recent college grads on food stamps; and other undergraduate students working three jobs while attending school full-time.
The poll also shows:
– 22 percent of students say they worry a lot about having enough money to get through the week; and one-third say they really worry about their parents' finances.
– Almost 20 percent changed plans and decided to go to graduate school because their undergraduate degree might not be enough to get them a job.
– One in five students say at least one of their parents lost a job in the last year; these students were less likely to go to grad school because they can't afford it.
– Almost one in five students considered quitting school.
– 32 percent say money worries have a big impact on their stress level; that's up five points from last year.
The silver lining here... Pollsters say that despite all the apprehension, there's also a lot of determination and spirit on the part of these youngsters. These students think eventually their education will pay off... and will help them land a job.
Here's my question to you: In light of the economy, what advice would you give to a college graduate?
Interested to know which ones made it on air?
Sheri writes:
Look for work at a not-for-profit organization! Although the pay probably won't be as much as you'd hoped for, the intrinsic rewards that you'll get from just helping those who cannot help themselves are "priceless"! You'll learn at a very early age that "You can get anything in life that you want if you just help enough other people get what they want!"
Amber from Boston writes:
Don't think you're above the "entry level" position. We often believe our recently-attained college education entitles us to something bigger, better, and more exciting. Take what you can in this economy and run with it. No, it may not be your favorite, but work hard and you'll at least have a chance. Good luck!
Penny writes:
Look for the largest union in your area, accept any position they are willing to offer, and then relax. President Obama will take care of everything in your life from there.
Doug writes:
Jack, I disagree with you. I think the advice I would give in today's economic times is to stay at home, find a job, and contribute to the household financially. It would help out the parents, and it would allow them time to save a little money. I think the family unit gets stronger in troubled times, and who else can you depend on?
Karen writes:
Get a degree in something that leads to an actual job... nursing, engineering, etc. Any job that requires a license is a better choice. Forget psychology, sociology, art history, etc. There won't be any jobs for those degrees for a long time. Be realistic. Think about what society needs.
Diane writes:
Learn how to say "You want fries with that?" with a smile on your face in both English and Spanish. And unless you want to live in your car, learn how to live with a lot of roommates. Hey, I had to do the equivalent of that when I graduated in '74. And I'm one of the ones out there competing for your minimum wage job these days. So SMILE when you say that.